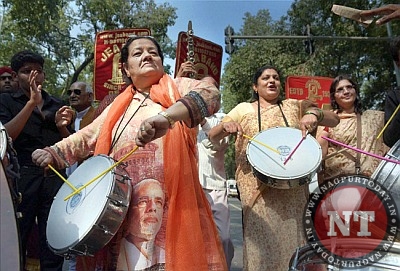 Mumbai: Taking a dig at the BJP-led government in Maharashtra over the recent unseasonal rains and falling prices of vegetables, the Shiv Sena today said Chief Minister Devendra Fadnavis is beating drums that have no sound.
The Uddhav Thackeray-led outfit, which is part of the ruling coalition, said instead of bragging about development during his tenure, Fadnavis should pay attention to the falling prices of sugar, tomatoes, onions and other farm produce which have adversely affected agriculturists.
"The chief minister talks about having details of development in his tenure, increase in agriculture production and efficient implementation of the loan waiver scheme in a pen drive," the Sena said in an editorial in party mouthpiece 'Saamana'.
"The CM can continue beating this drum that has no noise but he should also pay attention to the falling prices of tomatoes, onions, sugar and other agricultural produce," the Marathi daily added.
Citing an example of the trauma the falling prices of farm items has had on farmers, the Sena said a cultivator in Ahmednagar district called a music band and destroyed his own crop by letting cattle graze it amid music.
The Sena publication said distressed farmers have no option but to destroy their own crops if they do not fetch even the basic cost of production.
"Leave aside the minimum support price, if farmers do not even get the cost of their agricultural produce, what option are they left with except throwing away their produce or letting cattle graze it?" it asked.