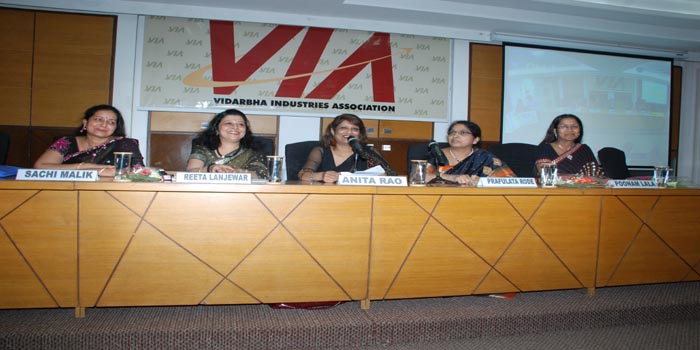 Nagpur News : VIA 'LEW' organised a seminar on "MAGIC TO KNOW & GROW YOUR BUSINESS" on Friday 18th January 2013. A team of 4 VIA LEW members who have successfully completed a prestigious management course by ISB Hyderabad guided the participants. The course named 10000 WOMEN ENTREPRENUERS PROGRAMME is provided by GOLDMAN SACH with ISB Hyderabad as its academic partner for India. The course aims to provide business & management course to women entrepreneurs.
Prafullata Rode, Advisor – LEW, Reeta Lanjewar, Sachi Malik &. Poonam Lala were the team members. A strong desire, a thoughtful decision, can do attitude are the basic ingredients to start a business, said Rode. With many practical examples she gave wonderful tips to the large participants. Women can do wonders in their businesses with confidence & pride of performance she said.  Rode also explained how the ladies can start some service activities with minimum possible investment.  Poonam Lala explained the importance of finance investment & operations in any business. An entrepreneur needs to judge her economic capacity before plunging into the business she said.
Sachi Malik talked of her own journey from a housewife to a successful businesswoman. She also explained the role of ISB education in shaping her career. She narrated the importance of preparing a business plan before starting any business. Reeta Lanjewar talked on importance of self development & family support for a lady entrepreneur. How to strike a work life balance is the real issue. Anita Rao, Chairperson of VIA – LEW shared her own experiences while comparing the programme.
Rode explained how the price of a product should be fixed considering the price floor, price range & the price ceiling. Competitors' price & customers' capacity & willingness to pay for the product is important she said. The issue of pricing was also well explained by Poonam Lala. Reeta explained the concept of effective cost cutting measures.  To throw light on Business Strategy & branding, Rode said that it is the skill of the entrepreneur to deliver a unique mix of products to the customer which no one else in the field has yet given. She gave the examples of Indigo Airlines. She also explained how the brands like Google, Nokia are ruling the world outclassing the previously established brands.
The informative session was largely attended by women entrepreneurs. The team members also shared their own personal experiences at ISB & how the course changed their lives.
All of them appealed the participants to apply these management techniques in their businesses for growth.
The programme was followed by talk on "CLEAN NAGPUR GREEN NAGPUR" by Deputy Health Director of NMC, Ashok Urkude. He gave many useful tips.
As per the tradition of every year VIA LEW celebrated HALDI KUMKUM on the occasion of Makar Sankrati.
Anita Rao, Chairperson – LEW, Vandana Sharma, Secretary – LEW, Madhubala Singh, Advisor – LEW, Y Ramani,  Past President – LEW, Manisha Bavankar, Mitali Raffique were prominently present for the programme, Vandana Sharma proposed the vote of thanks.