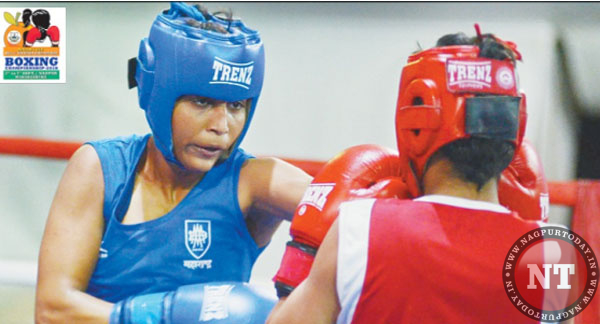 Maharashtra Madhura Patil, Janhavi Churi and Swapna Chavan and Simran Varma moved into the quarter-finals with crushing wins over their respective rivals in the ongoing Mayor's Cup BFI's first sub-junior girls boxing national championship under way at Rani Kothi, Civil Lines. The championship is being organized by Nagpur Mahanagar Boxing Association under the aegis of Maharashtra Boxing Association and Boxing Federation of India Though Maharashtra had a bad day in the office with as many as three defeats, Madhura,Janhavi, Simran and Swapna lifted the spirit s in the state camp with their resounding wins.
In the46-48kgs category, Swapna's three right punches in the first 15 seconds was all for the referee to stop her contest against Nandana C of Kerala in the first round itself on RSC. Earlier, Janhvi thrashed Apsara Devi of Manipur 4-1 on split points to move into the last wight of the tournament.
In the evening session, Simran defeated Pallavi of Uttar Pradesh in a one-sided battle to book her place in the quarters. There was heartbreak too for the hosts boxer sas Shreya Sawant lost to Shipra of Rajasthan 4-1 in the 42-44 kgs weight category. In the 50-52 kgs weight category Tritha Devlekar had to bite the dust losing her bout to Anchal Saini of Haryana (1-4). Inthe54-56kgs,Gaganpreet Kaur of Punjab go the better of Purvaja Deshmukh by 4-1 ;
Results: 40-42 kgs: Lalbia knii (Miz)bt Afsana (Guj) RSC;Prachi (Har) bt Siya Bohra (Utk) 5-0; Ayushi(UP)btMrinali(Meg)RSC; Kashish (HP) bt Kamakshi (Raj) 4-1; Neetu (Pun) bt Swagatika (Ods) RSC; Akhila AS (Ker) bt Vyshnavi (AP) RSC; Tamanna (Har) bt Kalpana Devi (Man) 5- 0; Riya Rawat(Del) btJyoti(Chd) 5-0; Khushdeep Kaur (Pun) bt Nandini (del) 4-0; Tansi (Chd) bt Payal (Guj) RSC; Garo Yallung (Aup) bt C Lalruatfeli (Miz) RSC; Nusrat (UP) bt Anamika (Tel) 4- 1; 50-52kgs: Shinghai (Pun) bt Ashu (UP) 5-0; Yamini Tanwar (Del)btDevikrishnaA (Ker)RSC; Kavya (Tel) bt Shital (Raj) 5-0; Thoi Thoi Chanu (Man) bt Shivangi(HP) 5-0;Neha (Chd) bt Shreena (Meg) 5-0.