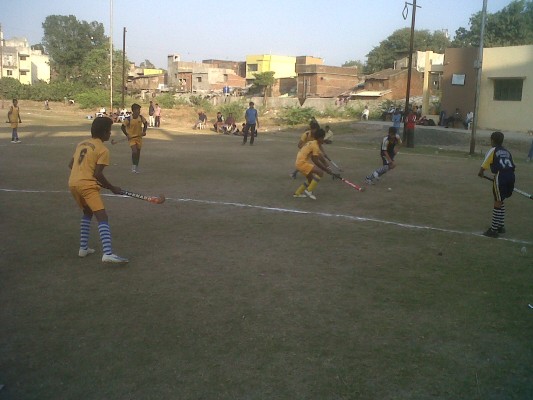 Inter School Hockey 2012-2013
M.A.K.Azad H S and Al-Amin High School  1-1 draw
Right from beginning both the teams pressed hard in order to out beat their opponents. But poor finishing of both the teams ensured a lacklustre display in front of goal. The first clear chance fell in the 9th min to Rakesh Thakur of Al-Amin as he got the pass from Sameer Khan but he failed to score. MAK Azad's Irshad Ahmad gave a cross pass to his centre forward Talib Nehal , he made no mistake and neted the goal in the 13th min for MAK Azad. Irshad twice missed the chance to score 19th and 36th min.
For Al-Amin English HS :- Equaliser goal scored by Abid Sheikh in 40th min on the pass from Rohit Nagrurkar. Sameer Khan and Abdul Zubair played excellent game MAK Azad got 4 pc and Al-Amin got 3 pc.
2nd match : Swaminarayan Vidyalaya and St.Michael's HS goal less draw
Vishal Sangani of Swaminarayan got scoring opportunity in 16th min on the pass of Vedant Gupta, but he put the ball wide of the mark. Gaurav Selokar also missed the chance in 39th and 53rd.
Full Time score 0-0 Swaminarayan got 3pc St. Michael got 2 pc.
Umpires :Pervez and  Sheikh Sharique.