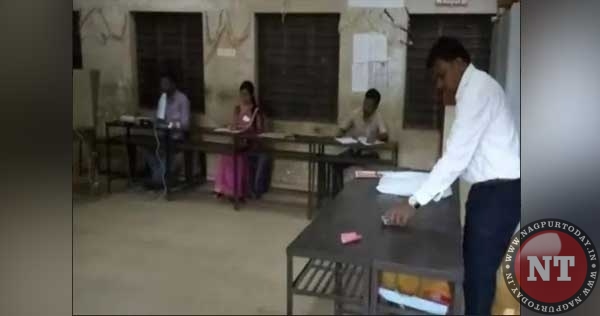 Nagpur: Voting for the Lok Sabha by-poll being conducted in Bhandara-Gondia constituency began on Monday morning amid complaints of EVM malfunctions. According to reports, voting at 35 booths has been temporarily suspended following faulty EVMs.
Notably, for the first time, Electronic Voting Machines (EVMs) with Voter Verifiable Paper Audit Trail (VVPAT) are being used in this by-poll amid rising allegations of EVM tampering. According to the Election Commission, VVPAT machines are used during election process to verify that the vote polled by a voter goes to the correct candidate. After a voter presses the button on the EVM against the chosen candidate, the VVPAT prints a slip containing name of the candidate and the election symbol and drops it automatically into a sealed box.
The Lok Sabha by-election to Palghar seat in state is also being held today along with two other seats namely Kairana in Uttar Pradesh and Nagaland seat. Counting of votes will be held on May 31.
In Bhandara-Gondia, the BJP and the NCP have locked horns in the by-poll, being held after the resignation of BJP MP Nana Patole. Patole, a leader of the powerful OBC Kunbi community, had switched side from the Congress to the BJP and was elected as an MP from the constituency in Vidarbha in 2014 by defeating former union minister and NCP heavyweight Praful Patel. The NCP, which has allied with the Congress, has fielded former BJP MLA Madhukar Kukde, against BJP's Hemant Patle, who belongs to the Powar community and is also a former legislator.
In Palghar, the by-poll is being held following death of BJP's Chintaman Wanaga. The BJP's bickering ally Shiv Sena has fielded the late MP's son Srinivas in a bid to garner the sympathy vote. The BJP has put up former Congress Minister Rajendra Gavit.