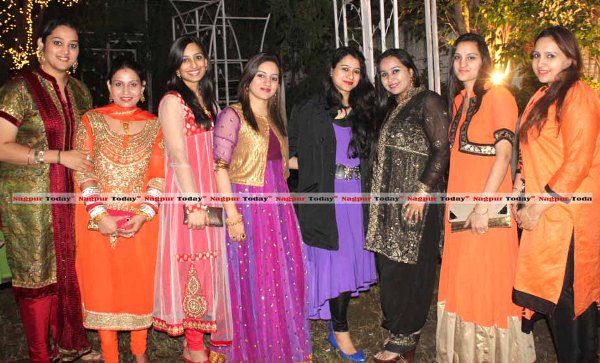 The first Lohri celebrated by a new bride in her husband's home or a newborn baby has always been celebrated with zeal and is observed as a grand occasion for the Punjabi families. Celebrated with traditional dancing and singing around the bonfire, Lohri is known to pamper women and children.
An extravaganza in the similar lines was seen at the first Lohri of their new born son Vedant in the Malhotra Family. The Malhotras invited friends and family at the Maharaja Baugh Club Lawns for this warm and lively Lohri Party.
It was only after the hosts for the night Varun and Neha Malhotra ensured that the Bonfire is arranged and is going well prior to welcoming the guests, did the real fun begin. On one hand, Vedant's Dadi (granny) seemed to be the bubbliest and lively of all and took hold of most of the guests to take around the bonfire, on the other one of the Boliyaans (Punjabi poems) sang by Bhavna and his Buaa (Aunt) that jazzed up the mood. The Boloyaans….
'Kake Fulre Di Maa,
Kaka Ronda Paya,
Pehle Kake Nu Chah,
Fir Rehna Deva'
The young couples were seen following the rituals carried by the elderly. The chilly environment was being enjoyed by one and all over delicious food and drinks in the presence of the bonfire.
To conclude, the young couples were seen dedicating songs to their spouses on the round table. Neha, the mother of the newborn shyly dedicated the song 'Mujhe Tumse Mohhobat Hai' to her hubby Varun. One of the close friends of Neha and Varun, Jasmeet crooned in a retro style and dedicated the song 'Hume Tumse Pyar Kitna' to her hubby Monty. A random dedication was made by Karan to Mandeep through the song 'Le Jaege Dilwale Dulhaniya Le Jaege'.
PICS BY: Vinay Thorat