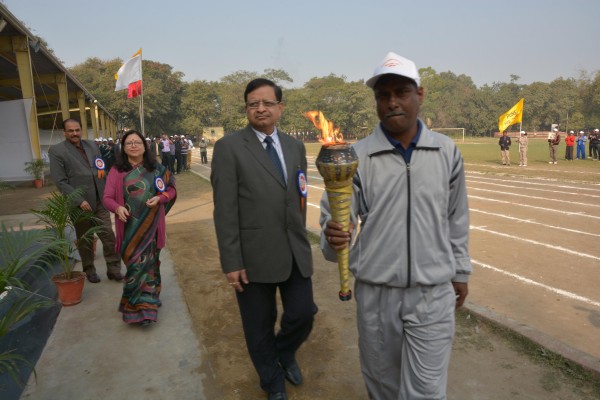 Nagpur News: The 46th West Zone Sports Meet 2013, organized by Central Excise, Customs and Service Tax, Nagpur, under the aegis of the Central Revenue Sports and Cultural Board (CRSCB) was inaugurated at the hands of Shri Ram Krishna Gupta, Chief Commissioner of Income Tax today, i.e. 14th January, 2014 at the Chhatrapati Shivaji Stadium, Police Line Takli, Katol Road, Nagpur .
The sports meet is scheduled for two days – 14th and 15th January, 2014. This meet has athletes, sportspersons from across the three states of Maharashtra, Goa and Gujarat participating in a large number of events.
Smt. Jagjit Pavadia, the Convenor of the meet and also the Chief Commissioner of Customs, Central Excise and Service Tax, Nagpur Zone, presented the welcome address and congratulated the participants for their competitive spirit and bonhomie which coincides with the happy coincidence of several occasions like Milad U Nabi, Makar Sakaranti and Pongal which are being celebrated today.
Ram Krishna Gupta, Chief Commissioner of Income Tax motivated the participants and encouraged them to do well in all the spheres of life. Shri Gupta administered the oath to the participants for fair play and lighted the "Victory Flame" for the games. Shri Deepak Salodkar, an eminent athlete of the Nagpur Customs and Central Excise Commissionerate assisted the chief guest in igniting the flame of the games. Shri Ram Krishna Gupta, Chief Commissioner of Income Tax declared the meet open. Shri P.V.R Reddy, President of the Organizing Committee along with Shri Vikram Wani, Organizing Secretary and Shri Ashish Chandan, Vice President of the committee were all present. Bunches of balloons in tricolor were released by the dignitaries amidst cheering from the spectators to mark the opening of the games.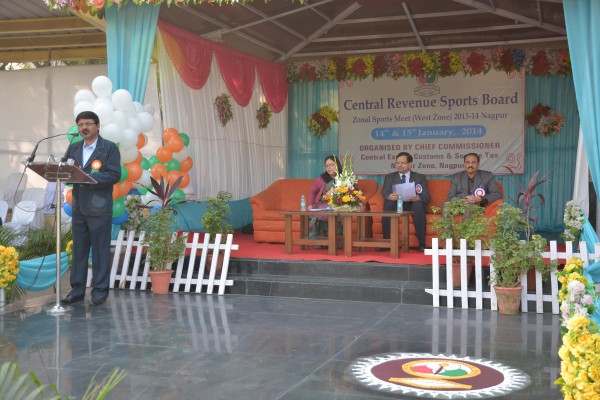 A 100 meters sprint (men) was organized immediately thereafter. Shri Krisna Kumar Rane, from Mumbai Customs was the fastest man in the West Zone with a timing of 10.95 seconds!! He is also a member of the Indian Athletics team having participated in the Commonwealth Games and Asian Games. The medals were awarded to the winners of this event by the Chief Guest.
Today a number of track and field events and also indoor and outdoor games were completed, as per the schedule attached, at various venues throughout the city. In case of completion of events the medals were immediately awarded to the winners.