Nagpur.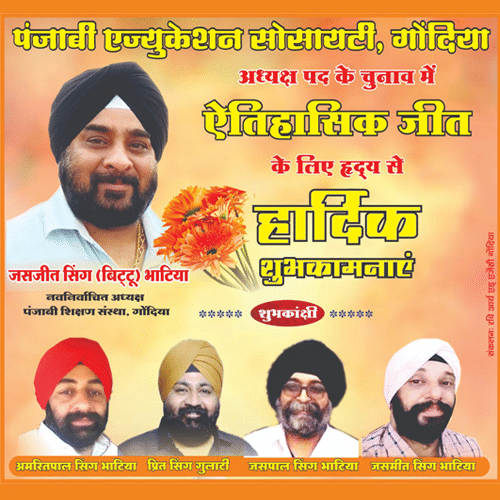 It was for the first time that Nagpur Municipal Corporation (NMC) in its history had introduced mayor, deputy mayor and standing committee chairman on July 20, 1952 by way of election. In order to commemorate this event, the NMC in its annual general meeting (AGM) on July 20 felicitated all those NMC office-bearers and corporators who were alive as on this date.
It may be mentioned here that the then deputy mayor of 1952-period, Sadananad Fulzele, who is still hale and hearty in his life-time, was first felicitated by the sitting NMC mayor, commissioner and other office-bearers on July 20. It was followed by felicitation of invited relatives of the first nominated corporator and NMC mayor Barrister Sheshrao Wankhede, first standing committee chairman Dandige and first deputy mayor Chhotelal Madhav. Also felicitated on the occasion included the living corporators and office-bearers of the period 1952 to 2014.
Conducting the proceedings of the felicitation function, the Ruling party leader in the NMC, Dayashankar Tiwari invited to the dais all former coporators and office-bearers who had been part and parcel of 62-year old NMC. The event was hailed by one and all. He said that the first elected NMC had only 42 wards and total number of corporators was 57 among whom 15 used to be nominated members as per practice prevalent then. As a result Barrister Wankhede was made nominated corporator office-bearer, though the situation is changed today as no one can become nominated member.
Tiwari informed the audience that the Nagpur Municipality was renamed as Nagpur Municipal Corporation since March 2, 1951. Then the first ever elections to the NMC were held in June 1952, and Pannalal Deshraj became mayor for five terms. According to him, the members of three generations of a single family became corporators, and they were Daulat Patel, Mohan Patel and Deepak Patel. Those who enjoyed the credit of becoming corporators five times included Dinanath Dhapodkar, Mahadeo Bhorkar, Nana Shmkule, Himmarai Saraikar, Anil Sole, Sunil Agrawal and Raju Lokhande, among whom Deepak Patel, Anil Sole, Sunil Agrawal and Raju Lokhande are still sitting corporators of NMC.
It is worth mentioning here that senior journalist Rajabhau Pofali, who had reported the proceedings of 1952 NMC, was also felicitated at the hands of mayor Praveen Datke.
Replying to his felicitation, Sadanand Fulzele recalled that he had won NMC election by a margin of 'one' vote from Ramdaspeth ward, and was elected unopposed deputy mayor. Meanwhile Dr Babasaheb Ambedkar entrusted him the responsibility of Deekshabhoomi.
One more guest of honour, ex-mayor Kundatai Vijaykar, having her birthday on July 20, was felicitated by Sadanand Fulzele on behalf of others.
*Tit-bits of AGM:
**At the behest of NMC mayor, the NMC secretary read out the proposal for award of Bharat Ratna to Mahatma Jyotiba Fule and Savitribai Fule, which was unanimously seconded by all. Praful Gudadhe Patil then moved a proposal of prayers on Savitribai Fule in all NMC schools, it was seconded by all.
** Muslim League member and Ruling Party corporator Aslam Khan tabled the issue of removal of encroachment from Meetha Neem Dargah area, but his demand went unheard, though Vikas Thakre appealed to mayor that Aslam Khan should be heard.
**A question of making death-certificate of the husband of BSP corporator Kiran Patankar by the department of birth and death was tabled in the AGM. On the direction of mayor, the NMC commissioner replied that Kakde Samiti was enquiring into it, and he would soon look into it. At the intervention of Dayashankar Tiwari, the NMC mayor directed the NMC commissioner to extend legal aid to Kiran Patankar.
Rajeev Ranjan Kushwaha (rajeev.nagpurtoday@gmail.com)