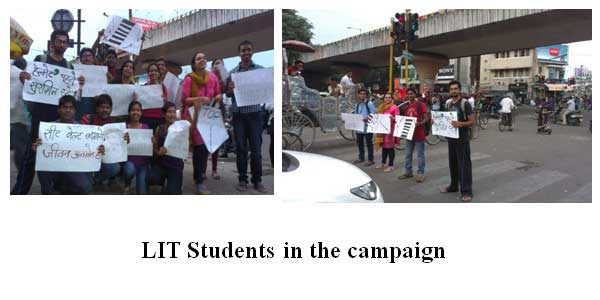 DATE: 19th September 2013
LOCATION: Variety Square, Nagpur
'Lead India', the initiative of Times Of India where LITians enthusiastically participated in venture of creating social awareness about traffic rules and discipline among people in one of the well known crowded area of Nagpur city.
Students came on the road, taking posters in their hands and conveyed the message. Students of lit unanimously came forward and  took the initiative to make the citizens of Nagpur aware of basic but important rules of traffic. Students made the citizens to abide the rules by their creative messages on poster.
Groups of students, each group containing 3-4 members, successfully regulated the traffic for one and half hour by standing at various traffic signals at variety square. The period for which traffic got stopped was utilized by LIT students for guiding the people about the simple traffic rules. Students convinced the people to follow those simple rules which are known by everyone but never followed like wearing seatbelts while driving, wearing helmets.
Students also successfully convinced people to cross road from zebra crossing. Only 2-3 groups of students convinced people to walk on area provided as footpath only by making the human chains. They helped normal people to understand the value of crossing the road safely and following the traffic rules while walking. Simple messages like 'don't drink and drive',' avoid use of mobile while driving', 'use zebra crossing', 'don't be a fool, follow safety rules', 'time is precious but life is priceless' ,'don't play with life' created an extraordinary awareness among  the masses.
An extraordinary co-operation was shown by the people by joining the volunteers and helping them in their cause. People those who were requested to stop their vehicle before the stop lines, responded positively towards it. The four wheeler drivers simply wore their seatbelts by just looking at the posters. The traffic policemen appreciated this event, guided the volunteers and provided a healthy support.
With this the event of generating awareness among people regarding traffic rules and regulation ended with the following note:
"Right of driving on the road comes with the responsibility of following the rules"