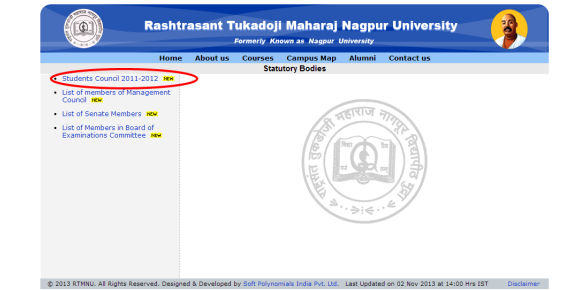 Nagpur Today.
In what could be termed as sheer laziness or apathy on the part of RTMNU authorities, that they  could not find time from their busy schedule to update the vital information of students' elected representatives. So much so that the list on the varsity's website is of  2011-12 show's the list of elected web-site (high-lighted as new) shows the old list.
On October 22, 2013 the Rashtrasant Tukdoji Maharaj Nagpur University held its election for Students' Council elections for the post of President, Secretary and other council members were held. The Akhil Bharatiya Vidhyarthi Parishad (ABVP) and Nationalist Congress Party (NCP) Alliance bagged the President's and Secretery's post respectively.
The other council members who were elected were independent.
The list of the new elected members are:
R.R.Kishnani. G.H. Raisoni.Nagpur————————————————President
A.S Rathod.B.D College of Engg.Sewagram,Wardha.—————————-Secretary
A.V. Meshram. K.D.K. College of Engg, Nagpur.——————————– Council Member
L.S.Lambat. Late Manohar Kamadi M.V,Ngp.———————————– Council Member
 S.D. Maske. Shri Sant Gadebaba M.V. Hingna.———————————- Council Member
Priti Wanve. Athawale College of Social work, Bhandara———————-Council Member
A.K.S. Sheikh. Vivekanand.M.V. Bhadravati————————————-Council Member
Madhuri Humane. Aniket college of Social Work,Desaigang(Wadsa)——– Council Member
Dipa Bawankar. Rajiv Gandhi College of Social work, Gondia——————Council Member
Apeksha Kokate. S.K. Wankhede  University college of education————Council Member
Roshni Fasala.Gurunanak M.V. Ballarpur Dist.Chandrapur——————– Council Member
Swati Kodape.Mahila Mahavidhaylaya——————————————– Council Member
Pallavi Gandhe. Ashok Moharkar.MV.Bhandara——————————— Council Member
Renuka Gandhare.SKB College of Pharmacy————————————– Council Member
What would one do, when he or she wants to meet or speak to a particular elected member. If he or she opens the official web-site, he or she would find the old list displayed on the web-site.