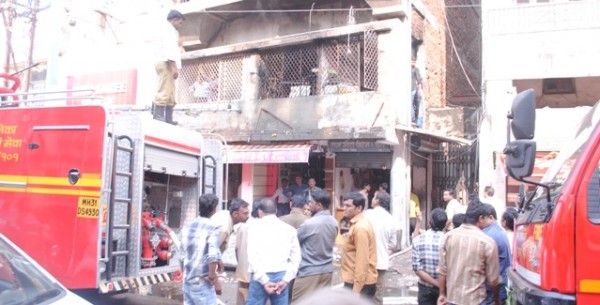 Nagpur Today.
Fire broke out at a footwear shop at Nanga Putla Square in Gandhibagh area on November 5, 2013. According to sources, a fire suddenly broke out in the Kohinoor Foot Wear shop. The fire department  was immediately summoned and three fire tenders were pressed into service and the fire was brought under control. The fire department also ensured that fire does not spread to neighboring shops.
According to the Fire Station in-charge of Fire Department of Gandibagh division, Dharmaraj Nakod, the building houses the Kohinoor Foot Wear shop on the ground floor. The first and the second floor was used as the residence of the owner.
The Kohinoor Foot Wear shop had a small Godown above his shop. Electrical short circuit seems to have triggered the fire in the Godown.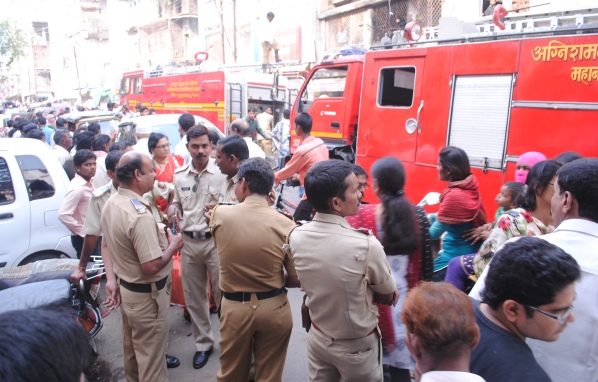 The Fire Officer has estimated the loss of goods to the tune of Rs 40,000 to Rs 50,000 only, while the proprietor of the Kohinoor Foot Wear shop has claimed the loss to be to the tune of Rs 1.5 lakhs.
Since Nanga Putla Square and Gandhibagh area is a busy business area and is usually having a heavy traffic even on other days, today being 2nd day of Diwali, the traffic was heavy and the fire tenders had a lot of difficulty in reaching the spot. The local traffic cops and citizens aided in clearing the path for the fire tenders.
This in turn aided in controlling the fire from spreading to adjacent shops and business establishments.