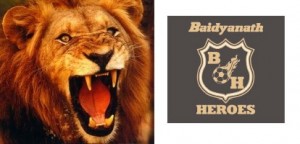 Nagpur Sports News: In a high scoring encounter, Abhijeet Lions drubbed Baidyanath Heroes 6-2 and made strong claim for the semi-final in Lokmat's Nagpur Premier League (NPL) Football Tournament at Yashwant Stadium on Wednesday.
In group one, both Abhijeet Lions and Meghe United have eight points each to their credit and are ahead of Gupta Tigers in goal difference. Now the pressure is on Gupta Tigers. They must have to win their last league match against Team Grace with better goal difference.
Michel Okwudili who slammed three goals was the architect of Abhijeet Lions victory. Zahid , Yamagata and Ahfaq Amir ably supported him by scoring one goal each.
The action-packed encounter witnessed as many as eight goals and some good moves. In the 12th minute Lions wasted an opportunity to take the lead when Michael's header on Nakata flag kick sailed above the cross bar.
In the very next moment, Baidyanath Heroes got the success. Thanks to Moin Kamal who scored an excellent goal on the pass of Arvin George.
After facing goal, Lions to intensified their attacks in the rival citadel. In the 20th minute, Zahid's header went above the cross bar on the left cross of Arif Khan.
In last five minutes, Abhijeet Lions bounced back by striking twice First Michel Okwudili equalized the score from inside the penalty box in the 40th minute and then five minutes later Yamagata found the net and gave 2-1 lead to Lions.
After a change of ends, Abhijeet Lions dominated the proceedings and on the other hand, Baidyanath Heroes who were playing for pride looked hapless.
Zahid Ansari increased the lead 3-1 in the 56th minute by tapping the ball at the goalline on Michael's pass. Two minutes later, Michael scored his second goal and made the equation 4-1.
In the 62nd minute Michel on the pass of Saquib Ansari surprised the rival goalkeeper Tauseef and netted fifth goal to put Lions in commanding position.
Abhijeet Lions substitute Ahfaq Amir netted sixth goal and at the same time was penalized for removing his T-shirt in an excitement. In last five minutes Lions tried their best to surpass Meghe United in goal difference but in vain. Arif Khan scored second goal for Heroes in the dying minute.
Michael was declared man-of-the match while Moin Kamal of Heroes was adjudged as best player from losing side.