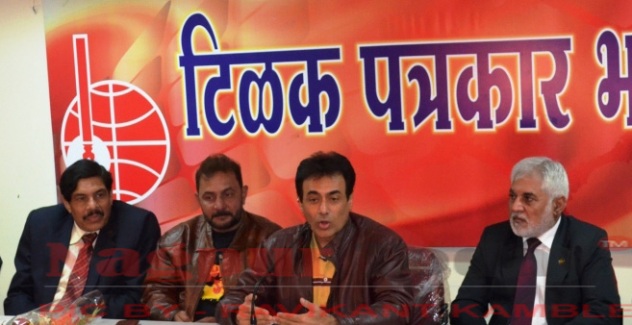 Nagpur News.
"Life is a big school and one gets to learn from the ups and downs that one faces in one's life", said Nitish Bharadwaj at the Press Conference held at Tilak Patrakar Bhavan on November 21, 2013. At a nadir of his own life, he always fell back and found solace and comfort in Gyaneshwari, Geeta & Mahabharat. This helped him to bounce back and get rejuvenated through positive thoughts. All we need is good support, friends and acquaintances.
Nitish Bharadwaj said that he is a free Mason and he has done Masters of Lodge Research in Mumbai. Renowned personalities like Rishi Kapoor is also a Free Mason. Free Masons always believe in Charitable work. This is often done by them in secrecy. They are expected never to talk of such charitable work. He expounded on what Free Masonry is all about. For many years Freemasons have followed three great principles: Universal Brotherhood, Love & Peace. With passing time, Charity was also added.
While explaining how Charity is to be practiced secretly, He said that it is written in Mahabharat that whatever we want to give as alms or donations, one should not take credit for it. He believes that Free Masons also follows the same principle. We are not supposed to take credit for the various charitable work which we do, nevertheless, in order to remove the doubts and misconceptions from people's minds, we would like to tell the masses that Free Masons have been generous donors during natural calamities, scholarships , medical assistance, Heart surgeries, at flash floods like tragedies in Uttrakand etc. We have been helping victims as Free Masonry.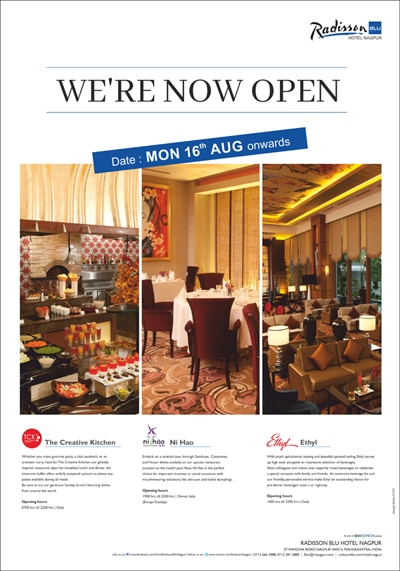 Earlier the Press Conference was addressed by the President of Nagpur Union of Working Journalist Shirish Borker informed that Freemasonry is one of the world's largest and oldest secular and fraternal organizations.
While introducing Nitish Bharadwaj, He said that Nitish Bharadwaj  who was born on 2nd June 1962, is an Indian actor and former member of the Lok Sabha. He said that one of the most successful and recognizable characters on television for his character as Krishna, in B. R. Chopra's television series Mahabharat, as well as for his portrayal of several Avatars of Vishnu in some of Chopra's other works, such as Vishnu Puran. He is a qualified veterinary surgeon from Bombay Veterinary College, Parel, Mumbai. Twenty five years later, Bharadwaj's life has changed quite substantially. After taking a break from television, he tried movies and then politics, with little success. Today, the actor directed his first debut Marathi film, Pitru Roon, starring Tanuja. He added that J.K Wadhavan will be installed as a Worshipful Master of Lodge Corinth. Also, Banquet hall of Heritage Building will be inaugurated on November 22,2013.
Nitish Bharadwaj while speaking about his Marathi directorial debut with Pitru Roon, said that the film is based on Sudha Murthy's story Roon. It stars Sachin Khedekar and Tanuja. The film features Suhas Joshi, Mrunal Deshpande and debutante Poorvi Bhave. Younger sister of Nutan, Tanuja is playing a character of Bhagirathi.Nitish Bharadhwaj said that Sudhatai is a very prolific writer and her story Roon is very simple and based on human relationships. We were thinking about the film since the last four years. We read so many stories but this story mesmerized us and we felt that it was the right story for the film," Nitish stated. Kaushal Inamdar is composing the music and Roopkumar Rathore has lent his voice for a song. The film is expected to release in the city December 6, 2013.
While justifying his making the movie in Marathi and not Hindi, he said that He is an artist and language, caste, creed, region is never a bar for any kind of art. He opined that Marathi language was the most appropriate language suitable for the story since it is a mainstream commercial film.
Other prominent persons present at the press conference were Worshipful Master of Lodge Corinth Madhav Kinkhede, J.K Wadhavan, Secretary of Lodge Corinth Sudhir Sule, Suresh Dixit and General Secretary of  Nagpur Union of Working Journalist Bramhashankar Tripathi.