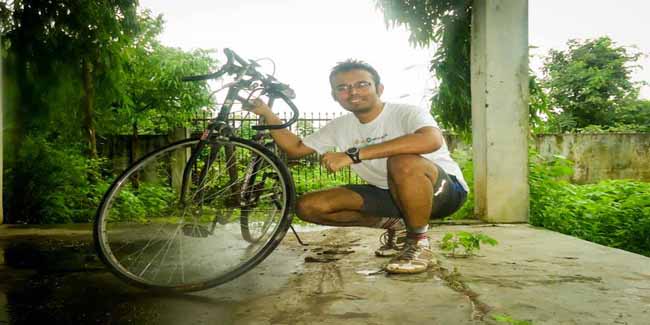 Nagpur News : A cycling enthusiast from Nagpur knows what it takes to pursue a passion in true terms. 24 year old Antriksh Surpam had special inclination towards cycling and biking right since his school days in SFS high school. The affinity grew as he turned towards junior college in Shivaji Science College. Later he got selected in engineering entrance examinations and became a regular student in metallurgy and material science at VNIT in Nagpur.
It is from here that Antriksh started developing thoughts that tracked him off his routine studious path. He spent four and a half years doing that but at last he backed off, for he thought this was not he wanted at all. Naturally, Antriksh faced repulsion from parents back home for trying to seek what does not weigh much in this material world.
"Being a diehard cyclist and my uncanny attraction towards bikes, I always wanted to pursue professional course in bike racing which was a costly affair then. So I dropped the idea, but now I have come up with this idea of opening a cycle academy which would include some good weekend cycling programs that will be beneficial from health point of view too", said an apparently thrilled Antriksh.
Through Nomads – the name of his venture – Antriksh looks at unleashing the traveler within the citizens of Nagpur. Through his site freewheels.webs.com, which would see its official launch on Thursday, he would put up his proposition that includes weekend group rides, inter-school cycle races, cycling tours for corporates and offices and cycle maintenance.
Antriksh informed that he would launch his program from an open ground where he along with his friends would take a formal cycle ride to the city and endorse their initiative in the t-shirts printed with their brand.
He said that this way he would be able to satiate his cycling spirit too and also bring health concern to the fore. He claimed to have cycled a maximum of 150 kms but initially he would keep it for maximum 10 kms in order to get more involvement of the citizens in his cycling academy.
He termed it a cool idea to drive citizens and school kids in the one of its kind outdoor fitness programme, where in, good friends would join in to push peddles for fun.