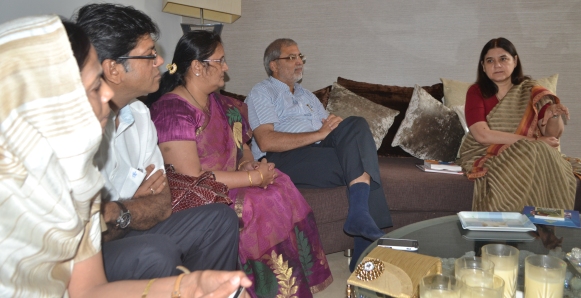 Nagpur News:
Member of Parliament and President of The People for Animals Welfare Organisation Maneka Gandhi reached Orange City to inaugurate the Nagpur office of People for Animals Welfare Organisation.
Nagpur Today scribe spoke at length with her on her agenda of this organization. When asked about her becoming a veggie, Meneka said "I was a non-vegetarian earlier and I was 17 when I got married and one day my husband told me that he is sad with me because I promote for people becoming a vegetarian and I myself eat non-vegetarian food. That very day I thought it's time to change ".
Maneka has all the reasons to ask people to change into vegetarians and stop the animal killing. She said "What you give is what you get back ".
She was upset with the illegal animal market and the slaughter houses in Kamptee and demanded actions against them. She said, "What upsets me the most is that all these things are happening under the BJP led Municipal Corporation."
Talking about the global warming, she explained "The global warming is not because of the carbon-di-oxide but its Methane which is killing the planet every second, however, if people turn vegetarian and stop killing animals they can save the planet and make this a better place to live."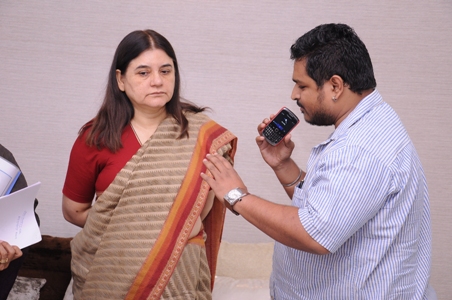 Maneka Gandhi, during her two-day visit to the city, will meet the school principals and teachers to discuss inclusion of topic to focus on animal saving in the curriculum.
Maneka said, "A 5-6 year-old kid will not understand it so well that why animal should not be killed for meat, thus it becomes the responsibility of seniors members of the family to explain them and the results will be fast and effective."
"You cannot stop anyone from eating meat. It completely depends on someone's wish. If you want to, you will. Our grand mothers have been giving advice to refrain from eating non-vegetarian food but those have been ridiculed and claimed 'non-sense' now. But, people forget it is the knowledge which they share of what is good and bad," she said.
"If we believe that the universe is a living thing, it breathes, and we will go and come back, so you have to keep it alive, the universe will give you back what you gave first." She also gave an example of Jain and Marwadi people being the harmless one. She said, "Jainism does not harm the universe."
Maneka challenged and said "You leave non –vegetarian food for a month and see all good things will start happening." She also shared her desire for people in Nagpur to join her organisation and expected more than 5000 people to join soon.
Pratap Guruji, Manju Jain, Sandeep Jain, Anuj Badjate & others were also present on the occasion.