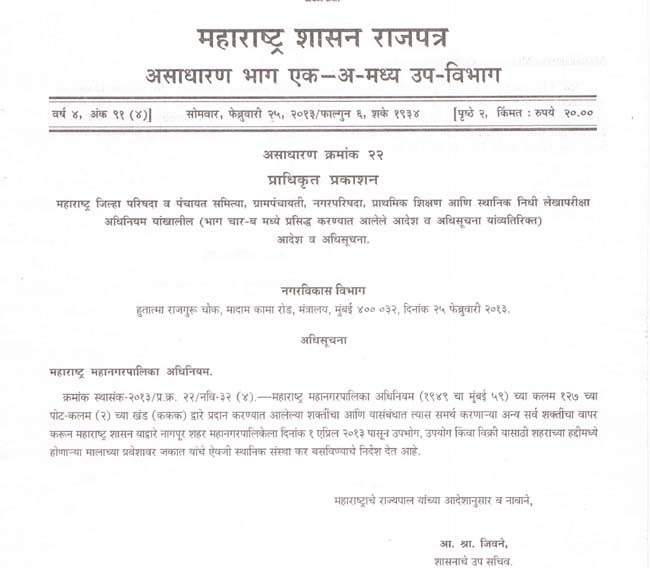 Nagpur News: The much hyped Local Body Tax scheduled to replace octroi in Nagpur Municipal Corporation from April 1, 2013 has gradually become the cause of concern for large number of traders in Nagpur. A government resolution (GR) to this respect has already been issued on February 25. To ensure its sure shot implementation, NMC has called for the LBT registration from March 13, Wednesday.
LBT REGISTRATION FORM CAN BE VIEWED HERE
Additional NMC Commissioner Pawar informed that some of the selected NMC employees would take the application forms to the businessmen in Nagpur from Wednesday. The forms will also be available at all octroi posts. The application submission centers have been stalled in all the NMC zones. The applicant has to submit registration fee of Rs 100 along with the form.
About 28,000 traders in the city, registered under Value Added Tax (VAT), have to compulsorily mention about this tax while registering for LBT. Separate registration centers can also be stalled at the offices of various traders association if they come up with the request in this regard, Pawar informed. The registration has been also termed compulsory for the traders who take up seasonal business. Such traders have to get themselves registered for the time being.
NMC administration would soon authorize a bank where the facility of depositing LBT would be made available. Besides, collection centers would also be placed while the online payment facility is being contemplated.
The first local body tax should be deposited by May 10. Till this period, NMC Commissioner has reserved funds for two months in order to run through the no incoming period. Once LBT is fully implemented, NMC aims at accumulating 20 to 25 percent hike in its revenue as compared to what it fetches through octroi.
The traders who purchase and sell goods within city limits have also to get registered but they would not be levied LBT upon showing the purchaser's LBT number.
Replying to a question, Pawar informed the 'rehdari' would continue to be levied at the octroi posts till next government's order.
About the staff concentration for LBT, Pawar said that there would be 10 LBT officers, 20 LBT inspectors and 60 clerks to streamline the functioning.
Those evading LBT would have to face the department's heat in the form of surprise raids and goods seizure. The octroi department head Mahesh Dhamecha was also present on the occasion.