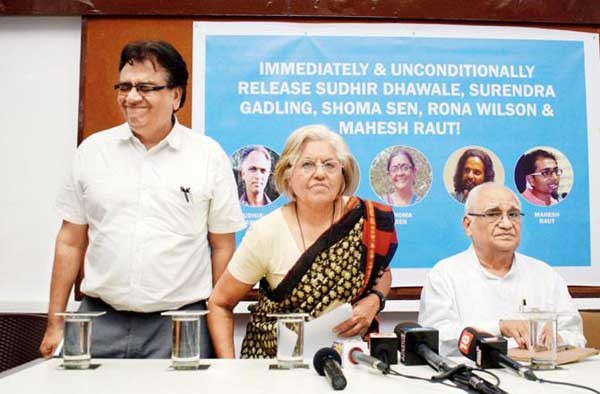 A group of lawyers and activists yesterday gathered to register its protest against authorities' "sudden" clampdown on five activists and lawyers on June 6.Saying the five arrested are innocent, the group condemned the arrests and called the move "unjust", during a press conference. They have demanded unconditional release of the five, adding that they will be going for legal recourse.
Muzzling dissent?
Addressing the gathering, retired justice B G Kolse-Patil called the charges (against the five) "baseless". "We find these arrests and accusations defamatory. We have taken a stand against the present regime, and rightly so, which is not being tolerated," he said.
"The five have been active in fighting against minority atrocities in the country. The purpose (of the arrests) was to ensure that Dalits don't get an effective voice. They (authorities) will clamp down on those who wish to effectively represent the community. This seems like a sham, done in violation of civil liberties and using a law that is draconian to begin with."
Slamming the authorities for their lack of transparency, Abhirr Palat from Amnesty India, said, "It's become a trend to project human rights activists as criminals. Law is being used to arrest people who are not in sync with the government."
Kin cry foul
The family members of those arrested, too, have refuted the charges. "We reject the allegations made by the police. My brother is working for the welfare of the people. All of us know about his honest work. We always knew that the path he has chosen is that of truth," said Monali Raut, Mahesh Raut's sister. Daughter of Prof. Shoma Sen, Koyal, said, "The arrests have been shocking, as have been the accusations. We are deeply distressed…"
Policespeak
Joint Commissioner of Police (law and order) Ravindra Kadam told mid-day, "Our investigation is based on material seized during raids between April 17 and June 6 — documents recovered from their houses, especially from their computers, laptops and from forensic cloning of their hard disk. Based on various letters recovered, the arrested have been linked to wanted Maoists. One letter also reveals that two wanted Maoists were part of the Parishad and were assisting Sudhir Dhawale.
"Members of the Kabir Kala Manch are small soldiers; it is Rona Wilson and Surendra Gadling who are the prime suspects. Let the court decide in the case; we will continue to pursue our investigation."
Police's reasoning
The Pune police on June 6 had arrested the five from Mumbai, Nagpur and Delhi for organising Elgar Parishad, which, the officers claim, contributed to the Koregaon-Bhima violence in January. The police have alleged that the five have had connections with Maoists, and also claim to have acquired a letter that allegedly throws light on a bid to assassinate the PM.