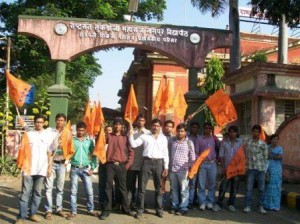 Nagpur News: The absorption process of senior Law students of Nagpur University into the new course introduced in 2009- 10 has drastically increased their workload, as students are still confused and hapless days, before the University Exams scheduled to begin on November 5.
Students of the fifth semester (Third Year) will now get three attempts to clear all their ATKT papers, failing which they will have to sit for three additional papers per semester, increasing their total number of examination papers by twelve. Not only does this increase the student's workload, but it also increases the amount they have to shell out as examination fees.
Members of the Akhil Bharatiya Vidyarthi Parishad (ABVP) met with Pro- VC Mahesh Yenkie, Dean of RTMNU Faculty of Law Mrs. Anjali Hastak and others on Monday, demanding that students who had taken admission before the implementation of the new syllabus be allowed to stick to the old course.
The members had earlier approached Vice Chancellor Vilas Sapkal in this regard, and had been assured of action within ten days, failing which they held a protest outside RTMNU campus on Monday, demanding a meeting with the Pro- VC.
Dean Hastak and Pro- VC Yenkie have assured that older students will not be burdened by the new syllabus and can stick to the earlier 2008 syllabus. The issue was also discussed in a meeting of the Law faculty, and there is a possibility of postponement of the examinations scheduled for November 5 for the students of Law (both courses), to avoid confusion regarding the syllabus to be followed.
-Meghna Majumdar