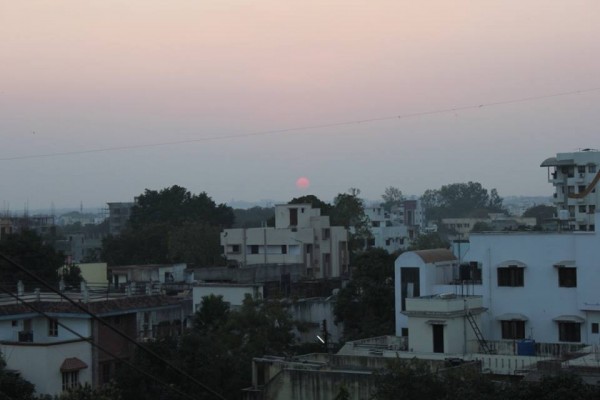 As the sun sets over the horizon on the last day of the year, the denizens of the city and the citizens of the nation hope that may the sun set on their troubles, worries, tensions etc. Last year was a year of political, social, economical turmoil. The city too had its share of political and economical turmoil.
In Business: Compulsion of getting Adhar Card, Limited Gas Cylinders, LBT, Shops closed because of traders opposing LBT implementation, Monsoon had an elongated stay in the city causing water logging in many areas, World's smallest woman Jyothi Amge gets into Guinness and Limca Book of records, Spanco comes to lime-light with faulty meters, torture of consumers with exorbitant bills and faces wrath of socio-political leaders and consumers, road side vendors get permission, Petrol prices hiked.
In Politics: Nitin Gadkari steps down from BJP leadership, President's Visit cancelled, Sonia Gandhi addresses the largest gathering of Congress party workers at KP ground, Udhav Thakre, Raj Thakre, Rajnath Singh, Narendra Modi, MM Joshi, Advani, Varun Gandhi, Ashish Deshmukh's fasting and others visit city.
In Education: 250 Colleges Banned, Delegation of Banned Colleges meet to redeem their position, Rosters' Scam, VC adamant over various issues, Academic Council & Management Council gunning for VC's posts, Engineering students on Hunger Strike unhappy with the functioning of RTMNU, 100th Convocation of RTMNU deferred, Many national and International seminars and conferences held in many colleges, Former President Abdul Kalam visits city for Principals' conference, CM interacts with students etc.
In Sports: Sachin's retirement, Cricket Match of India Vs Australia, IPL Six Spot fixing scandal brings Nagpur into World Map with Kingpin Chotu Agrawal, Paresh Bhatia & many bookies arrested, Many inter-school, Inter-Collegiate, Inter-Varsity matches and tourney held.
In Crime: Pintu Shirkey murder case judgment, Kush Kataria Murder case judgment, Monica Kirnapure's rapists awarded hanging punishment, Water, Mobiles, Ganja, Batteries, Chargers etc found in Central Jail, Murder captured in CCTV camera at Seven Hills Bar, Many police officials commit suicide, Students commit suicide, ACB traps many officials (small and big), Economic Offenses Wing of Crime Branch arrests Sameer & Pallavi Joshi of Shree Surya Group, Many companies who committed economical offences like Wasankar under IT scanner, Many sex rackets run in the garb of Beauty Parlours unraveled, Sanjay Arora held for Copyright Act,  IT raids on Purti Group, many accidents, Bhuru Murder etc, Chain snatching, rapes, murders, kidnappings and other cases were on the rise.
In Movies: Kamala Hasan's Visharoopam gets censor board okay, Many film heroes like Akshay Kumar, Jay Bhanushali, Imran Khan, Anil Kapoor, John Abraham, Tushar Kapoor, Manish Paul, Hema Malini, Imran Hashmi, Uma Khureshi, Kalki Koechlin, Lucky Ali, Javed Ali and others visit city.
Compiled by Samuel Gunasekharan