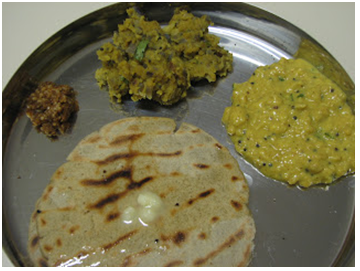 *Jhunka Bhakar-Pithla-Lasun Chutney-Mattha*  
Jhunka Bhakar
Ingredients:
1 cup Besan
3 cups Jowar Flour
3 chopped Onions
6 chopped Spring onions
2 tsp Red chilly powder
1 tsp Mustard seeds
1/2 tsp Turmeric powder
2 stalks chopped Spring onion greens
3 chopped Fresh coriander leaves
3 tbsp Oil
A pinch Asafoetida
Salt to taste

Method:
1.In a pan, roast the besan until aromatic and keep aside.
2.Heat oil in a pan, add the mustard seeds and saute until splutter.
3.Add the asafoetida and onions, saute until the onions becomes soft.
4.Add the spring onions and saute for a minute.
5.Add the besan, salt, turmeric powder and red chili powder, mix well.
6.Add 2 cups of water, mix well, cover and cook  for 5-6 minutes over medium heat.
7.Add the spring onion greens, mix well and cook for another couple of minutes. Keep aside.
8.In a bowl, mix the jowar flour with salt and 1 cup of water.
9.Knead the flour into a soft dough and divide into equal parts.
10.Roll the dough into small thin chapatis and cook on hot griddle until evenly done on both the sides.
11.Serve hot with the zunka.


Pithla
Method:
1.Add besan to water and mix well so as to make it lump free mixture.
2. Heat oil in pan / kadai.
3. Add mustard seeds and cumin seeds. Wait till they splutter and then add green chillies, curry leaves, and chopped garlic. Once the garlic changes to light brown, add the chopped onions. Fry till they become translucent.
4. Add tomato and cook till it turns soft.
5. Now add the besan water mixture and stir well.
6. Add salt as required and turmeric and keep stirring at intervals (Continuous stirring will avoid formation of lumps)
7. Cook for 5-10 mins.
8. Garnish with fresh coriander leaves and serve piping hot with Bhakri / Roti / Rice.
Lasun chutney
Ingredients
5 cloves garlic
1 cup coconut shreds
1 tsp cumin seed
3 red chiles
2 tsp sesame seeds
2 tsp tamarind pulp
1/4 cup peanuts
Salt to taste
Method:
Roast all of the above ingredients independently except salt.
Grind well. and serve
Mattha
Ingredients
½ cup Plain Yogurt
1 cup water
1 tbsp chopped Cilantro
2 Mint leaves
¼ tsp Cumin Seeds
¼ tsp ginger, minced Salt to taste
Method:
1) In a container, add yogurt and whisk for a minute. Make yogurt very smooth. Add water and make buttermilk.
2) Crush Cumin Seeds coarsely. Add Crushed Cumin seeds, Ginger to buttermilk.
3) In a small bowl, add chopped cilantro, mint leaves and little salt. Crush together until Cilantro and mint leaves become mushy. Add it to Buttermilk. Add little salt and mix. Serve after any meal.
By Shubham Sondawale