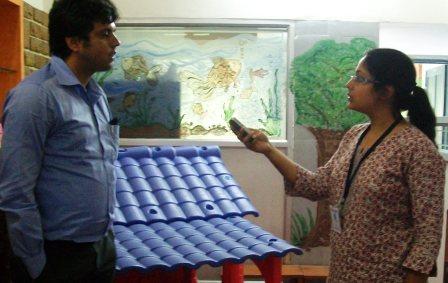 Nagpur Today Interview: Tree House Play group is one of the largest pre-schooling chains in India, with more than 300 branches across India and four in Nagpur. Meghna Majumdar from Nagpur Today had a chat with Mr. Santosh Kumar, Vice- President, Tree House Playgroup, about the vocation of child education and the business.
Following are excerpts from the interaction:
Meghna: Why is pre- schooling important?
Santosh Kumar: Pre- schooling is for children of the age group of two to seven years. At this age, the child's brain is growing at an incredible pace, and can absorb anything at all. If you talk to a child in English at this age, the child will adopt English; if you talk to the child in Marathi, the child will adopt Marathi as one of his or her primary languages. So, in pre- school, we don't give a child a formal education or teach them the Alphabet, we use innovative methods like Montessori Teaching and Play Method instead, to give the child's memory and imagination a boost.
Meghna: Do you think there has been an increase in the competition for admission to even pre- schools today that pressurises little children?
Santosh Kumar: Our pre- school, at least, has no admission criteria or test for children who come for admissions. The children who come to us are two years old; they can't be judged upon anything. We take in every child who comes to us.
Meghna: How profitable is education as a business?
Santosh Kumar: It is very profitable. We have more than three hundred schools in India, eighty per cent of which are our own centres. We have a hundred and thirty branches in Mumbai alone. Tree House is India's largest self- operated educational company. It is the first Education company to have been listed in the BSE (Bombay Stock Exchange) and the NSE (National Stock Exchange). Our profit was Rs. 22 crores last year.
Meghna: How do you strike a balance between the vocation of education and the business?
Santosh Kumar: Our policy is "Education for everyone". We charge very little fees, and provide quality education to each student. We only restrict admissions when the permissible limit of 200 students over two batches, in a space of two thousand square feet has been reached. Our ideal student- teacher ratio is one teacher per ten students, and we stick to it.
Meghna: What qualities do you look for while recruiting a teacher?
Santosh Kumar: We have a team of experts with a M.Sc. Degree in Child Education in each centre. This team coordinates with the teacher regularly, and updates them about new techniques and helps them implement these from time to time. Our teachers are, thus, trained and updated on the job.
Meghna: What expansion plans do you have?
Santosh Kumar: We plan to open two or three more branches in Nagpur in the next session. We have not opened regular schools in the city, but we have more than twenty two schools that teach students from Kindergarten to Class XII in different parts of the country-four of them are in Mumbai and two in Rajasthan. We don't have any such plans for Nagpur as yet, but we would like to, in the coming years.
Meghna Majumdar