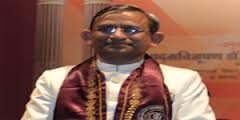 Nagpur News: A day after the ruckus in Rashtrasant Tukadoji Maharaj Nagpur University's Senate meeting, its Vice-Chancellor Dr. Vilas Sapkal roared over the allegations raising doubt about the veracity of completion date of his PhD, leveled against him by senate member Dr. Dinesh Agrawal. Dr. Sapkal discarded the claim saying Dr. Agrawal was trying to bring the image of Nagpur University in bad light by coming up with false allegations.
Speaking to Nagpur-Today, Dr. Sapkal clarified that the Date of Defence (Viva) after completing PhD research was mentioned as December 28, 1987 while the degree was conferred in July 1988. He said, "Both these dates are recorded in my degree. The date of completion of defence is considered as the completion of doctoral. Dr Agrawal is trying to malign the university's image." Dr. Sapkal could not participate in Saturday's meeting as he was out in Mumbai to attend a meeting on examination reforms, called by the Chancellor K. Shankarnarayanan.
Earlier on Saturday amidst uproar in the university's senate meeting, senior senate member Dr. Dinesh Agrawal casted aspersions over the authenticity of Sapkal's PhD, alleging that the date of completion, which Dr. Sapkal mentioned in his biodata sent to the Chancellor did not match with the one registered in his original certificate. Dr. Agrawal also presented few documents in support of his claim.
Dr Agrawal said that Dr. Sapkal misguided the Chancellor's office by misrepresenting the dates about the completion of his PhD. In his biodata sent to the Chancellor's office, Dr. Sapkal has mentioned that he cleared PhD from IIT Powai in the year 1987. Even similar information could be seen posted on the university's website, he added. On the contrary, the year 1988 is clearly mentioned in the true copy of his PhD certificate issued by IIT Powai. Interestingly, Dr. Sapkal had marked 1988 as the year of completing his PhD in another application sent for the post of Professor in Chemical Engineering Department of Sant Gadge Baba Amravati University. He told that he had also sent a letter to Dr. Sapkal in this regard, which he did not reply.