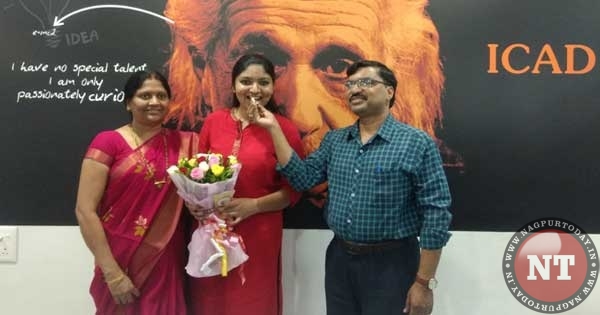 Nagpur: Lahari Boddu city's second topper with AIR 208 scoring 644 marks, student of ICAD institute, shared her habits of studying for these competitive exam.
Q. Why did you choose medical as a career option?
A. I had interest in this field though many well wishers had warned me not to pursue Medical field as it takes many years!
Q. Did you expect to score such good marks?
A. I was hoping that I will get around 600 marks but I got 644 marks.
Q. What were your strategies while studying?
A. I tried to keep my focus on NCERT books and covered all the portion of the books as the main pattern of NEET is on NCERT basis only so one should follow these books rather than going for other editions.
Q. What is your aim?
A. I want to become a Cardio surgeon but I want to keep my options open as I am interested in psychiatry as well.
Q. Did you take any Coaching? Do you think it Is required?
A. ICAD helped me in refining my study methods and teachers of the institutions were constantly ready with help and counseling. For proper guidance coaching is required as you will get complete help from the teachers, proper test series will be conducted regularly.
Q. How did you manage your studies for boards and medical entrance?
A. I distributed time for every subjects and as soon as the syllabus was completed I practiced more and started giving test series. In boards I scored 91.6% and 2 months prior to my boards exam I started my revision and as I did my schooling from CBSE board it helped me in my NEET preparations.
Q. Which College have you aimed for?
A. On the basis of my AIIMS result I will decide college options although I am hoping to get admission in AIIMS Delhi.
Q. Any tips for students.
A. Constantly give Test series. Be disciplined in studies.
One should keep all distractions at bay while studying and should focus on their practice.
They should not ignore NCERT.