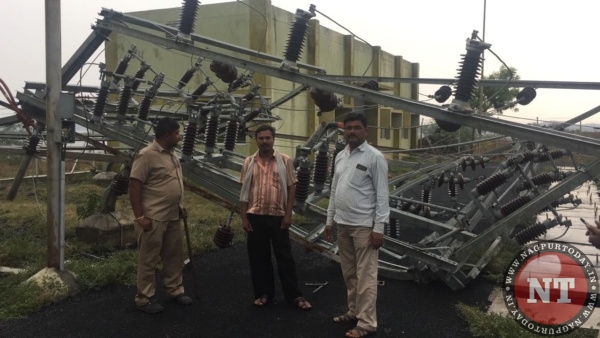 Nagpur: Due to heavy wind and bad weather condition at Navegaon Khairi Headworks area, a major power breakdown developed which will adversely affect water supply to North and many areas of South Nagpur on Wednesday.
It was learnt that on Tuesday afternoon, at around 4 pm due to heavy weather conditions at Navegaon-Khairy Headworks, the Four Pole structure in the Electrical yard could not withstand the strong wind and collapsed.
The broken and collapsed four pole structure is required to be re-erected and necessary electrical accessories connected to restore power. The SEW team of NMC's Pench project cell & OCW Team will work round the clock to restore the power depending upon further weather conditions.
Bulk water supply to the command areas of Nara ESR, Nari ESR, Jaripatka ESR, Dhantoli ESR, SreeNagar DT, Nalanda Nagar ESR, Omkar Nagar-I & II ESR , Malghi Nagar ESR, Bezonbagh ESR, Mangalwari DT, Indora ESR, 10 No. Pulia DT and Indora DT shall remain adversely affected.
The inconvenience caused in water supply due to such power breakdown is highly regretted.