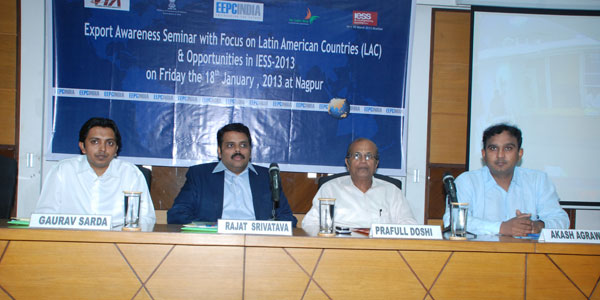 Nagpur News.  January 18.  Rajat Srivastava, Regional Director Engineering Export Promotion Council [EEPC-India], a body under Ministry of Commerce Government of India, enlightened the members and exporters of the region on doing business with Latin American countries at VIA Hall this afternoon.
He was speaking at a programme on Export Awareness with focus on LAC organized by EEPC and VIA.
He said that an integrated programme "Focus LAC" was launched in November 1997 by the Government of India considering the potential of the market in the Latin American region. Latin American region comprises of 44 South American, Central American and Caribbean countries. According to Shrivastav Brazil, Mexico, Argentina, Chile, Peru, Colombia, Venezula and Panama are India's major trading partners constituting around 90% of total trade with LAC region.  He gave a detailed presentation on various products being exported to various LAC countries along with the market scenario in these countries.  He explained the various export promotion schemes and discussed the same in detail.
Further, LAC is an ideal destination for exports for various products from India and that there is hardly any sign of recession bin Latin American countries, he said.
This was followed by a presentation on India Engineering Sourcing show scheduled 2013 to be held at Mumbai during March 14th to 16th. The show is being organized by Ministry of Commerce & Industry Government of India with EEPC as lead agency.  The focus will be on Automotive components and systems defence, energy, Industrial supply, Industrial machinery and machine tools, Infrastructure and projects Innovation etc.
He mentioned that more than 1000 overseas buyers are visiting India Engineering Sourcing Show. Since the exhibition is highly subsidized by Govt. of India. He further invited Companies from Vidarbha Region to participate in the exhibition in large numbers under the banner Vidarbha Industries Association.
Earlier Prafull Doshi president VIA welcomed the speaker and said that exporters must take full advantage of such programmes. Taking part in expos and shows held one to gain knowledge and also help in sourcing buyers all around the world.
Gaurav Sarda Joint Secretary VIA and Coordinator of the programme proposed a vote of thanks. Akash Agrawal, Hon. Secretary of VIA was also present.
Regards,
Executive Secretary.

Vidarbha Industries Association
1st Floor Udyog Bhawan Civil Lines
Nagpur:440001,India
Ph No:0712-2554090/2561211