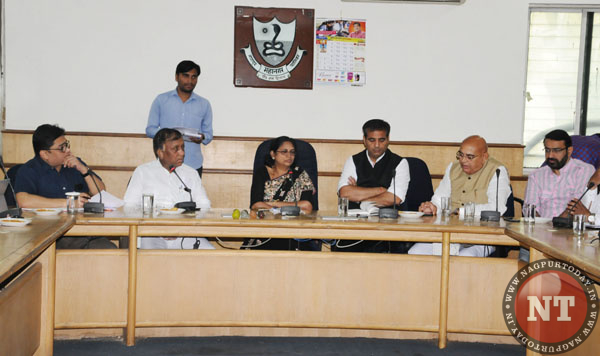 Nagpur: The Chairman of NMC's Standing Committee and NIT Trustee Virendra alias Vicky Kukreja on Monday directed the Nagpur Improvement Trust officials to speed up work of distribution of ownership rights in all slums in the city. "The work has got stalled since past many years. The NIT should immediately take up social, economical and plane table survey in all slums under its jurisdiction for distribution of ownership rights to slum-dwellers," Kukreja said.
Kukreja reviewed the current status regarding distribution of ownership rights at a joint meeting of NIT and NMC officials. The meeting was also attended by Mayor Nanda Jichkar, MLAs Sudhakar Deshmukh, Krishna Khopde, Dr Milind Mane, Ruling Party Leader in NMC Sandeep Joshi, NIT Trustee Bhushan Shingne, Municipal Commissioner Ashwin Mudgal, NIT Chairman Dr Deepak Mhaisekar, Additional Municipal Commissioner Ravindra Kumbhare, NIT General Manager Ajay Ramteke, Superintending Engineer Sunil Gujjalwar, and other officials of NIT and NMC.
Kukreja further said that unless the NIT completes the remaining works, speed up RL distribution work till then it will not be dissolved. The officials must understand this fact. The issue of distribution of ownership rights is serious. Hence an independent cell should be set up for the speedy work, he said.
North Nagpur MLA Dr Minild Mane lamented that since the NIT was being dissolved, development works received a setback. Even road works got stalled at some places. Others MLAs Krishna Khopde, Sudhakar Deshmukh and Mayor Nanda Jichkar also expressed concerns over delay in distribution of ownership rights due to poor work of survey and urged the NIT officials to speed up the work.