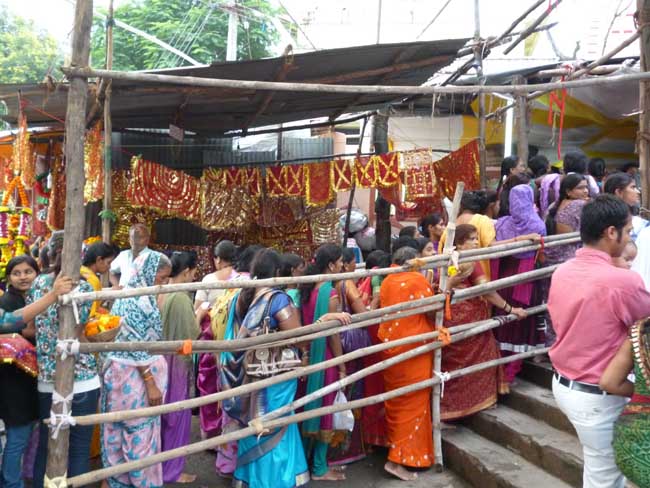 Nagpur News: The Koradi Navratri Yatra with religious fervour and gaiety on Saturday with hundreds devotees from Nagpur District and outside thronging the Koradi Devi Mandir from3 am itself. Police have arranged an air-tight security and have thrown security blanket in the Temple premises and Koradi town, too, to avert any untoward incident specifically the terror attack. Similarly, Gram Panchayat, Revenue Department, ZP Public Warks Department and Tehsil Office have geared up and have provided excellent facilities for the devotees who would line up for hours together to have "Darshan" and seek blessings from Koradi Goddess during the nine-days of Navratri.
The most pious Ghat Sthapna was performed in divine atmpsphere amidst chanting of Vedic mantras and chanting "Jai Maa Jagdamba Devi" by the devotees. Shri Jagdamba Lokseva Pratishtan, as the tradition of every year, organized a blood donation camp from 10 am to 1.30 pm. The devotees were served food and tea in the massive pendal. Devi Mandir Trust has also made excellent arrangements like separate line for women devotees behind the temple from where they could have "Darshan" of Maa Jagdamba. All the devotees would be served "Laddu Prasad" during the nine days of Navratri.
The Koradi-Surabardi road has been closed for heavy vehicles. The parking arrangements for two, three, and four-wheelers have been made at Hanuman Mandir premises and nearby areas. Other civic facilities have been provided by Koradi Gram Panchayat and the volunteers of Shri Jagdamba Pratishtan have been providing their various services for the devotees.
On the first day of Navratri, Maa Jagdamba looked like three stages of life – A Small Girl in the morning, Young Girl in the afternoon and Woman in the evening all in saffron colour. Lakhs of devotees go to Koradi Jagdamba Mandir to seek blessings and legend has it that "Darshan" of Goddess Jagdamba cures uncurable diseases, keeps away miserable conditions and blesses prosperity and progress.