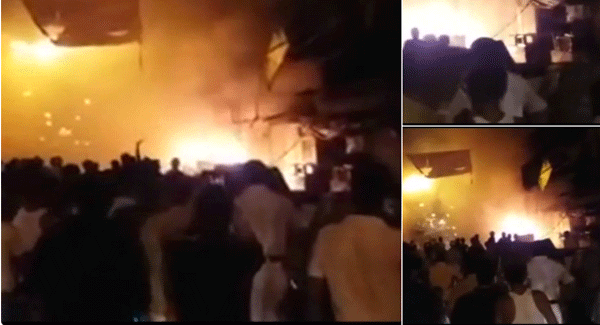 Kolkata : A major fire broke out at Bagri Market in Kolkata's Canning Street early on Sunday morning. At least 20 fire tenders are reportedly present at the spot and trying to contain it from spreading. The fire reportedly broke out at 2:45 AM in the morning. There have been no immediate reports of casualties or injuries in the Bagri Market fire.
The cause of the fire has not been ascertained yet. "The fire broke out at 2:45 am. We are trying our best but firefighting operation is tough here because of the number of buildings. No injuries have been reported," Kolkata Mayor Sovan Chatterjee told news agency.
This is the second case of a fire breaking out in Kolkata city of West Bengal. On September 9, a fire had broken out at the Howrah Railway Station due to short-circuiting on an electricity board on a pillar near a food plaza in the station premises. At least two fire tenders were rushed to the spot. No casualty was reported.
In another such case, a massive fire broke out at a Srinagar hotel here on Saturday with fire tenders trying to contain it from spreading. The blaze started at the top floor of the multi-storeyed Pamposh Hotel on Residency Road. The building houses offices of some news channels and business establishments.