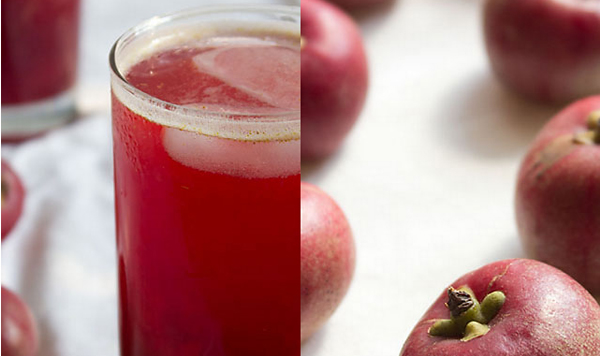 Kokum or Garcinia Indica is a fruit which is famous for its healthy and refreshing cool drink. Kokum juice is not only delicious but it also has several health benefits.
Ayurvedic physicians have long used kokum to treat sores, prevent infection, improve digestion, alleviate diarrhea and constipation, lessen arthritis pain, cure ear infections and heal stomach ulcers. Kokum is a purple berry which has been long used in Ayurveda to prevent infection, treat sores, cure ear infections, heal stomach ulcers, improve digestion, lessen arthritis pain and alleviate diarrhea & constipation.
Kokum is a rich source of powerful anti-oxidant vitamin C in the form of citric acid, malic acid, acetic acid, ascorbic acid, hydro citric acid and hydroxycitric acid. Garcinol is the major active ingredient of Kokum and it has antioxidant, antibacterial, anti-carcinogenic and anti-inflammatory properties. It does not contain cholesterol or saturated fats. It is low in calories and rich in dietary fibres. Fresh Kokum fruit highly contains B-complex vitamins such as niacin, folates and thiamin which are co-factors of many biochemical reactions. The seed of kokum contains 23-30% oil and it is used in preparation of medicines, cosmetics and confectionery.
1)    Kokum juice is very popular in India especially during hot summer. It is delicious and has a cooling effect on the body. It is very refreshing drink. It not only quenches your thirst, but also helps to prevents dehydration and sunstroke due to heat.
2)    Kokum juice improves the digestion and appetite. It is also used to treat piles and dysentery.
3)    It promotes cell regeneration and repair. It helps to reduce fever and allergic reactions.
4)    It contains Hydroxy Acetic Acid (HCA) that helps to decrease the rate of conversion of excessive carbohydrate into fats.
5)    It also helps in suppression of fatty acid synthesis and lypogenesis and thus, bringing about weight loss.
6)    It is known to fight cholesterol strengthens the cardio-vascular system and stabilizes liver function.
7)    Kokum aids to weight loss. The active ingredient Hydroxy Acetic Acid (HCA) has been found to be a good anti-obesity agent as it suppresses lipogenesis and converts excess calories into glycogen thus bringing about weight loss.
8)    It can relieve you from gastric problems like acidity, flatulence, constipation and indigestion.
9)    It is low in calories and contains no saturated fats or cholesterol and is rich in dietary fibre. It regenerates fat metabolism.
10)                       It is a very rich source of minerals like potassium, magnesium and manganese. Potassium helps to control blood pressure & heart rate and thus, it gives protection against coronary heart diseases and stroke. It also contains carbohydrates in sufficient amounts.
Researchers at the Institute of Science and the Bhabha Atomic Research Centre in Mumbai, India, have shown that kokum's antioxidant activities are stronger than those of many other spices, fruits and vegetables. Their research, which involved rats, was published in "Current Science." Researchers from Wayne State University in Detroit, Michigan, and the Patil University of Pharmaceutical Sciences and Research in Pune, India, published an article in the "Journal of Hematology & Oncology" suggesting that kokum could be a useful anticancer agent. However, research in humans is still needed.