Part 18: Lakadganj Police Station
Nagpur: Established in 1952, the Lakadganj Police Station is currently led by Senior Police Inspector (PI) Parag Bapurao Pote (a PSI of 1995 batch). Lakadganj Police Station is one of the most highly-equipped Police Stations in Nagpur City constructed at Rs 144.96 Crores. The G+3 building comprises four lockups, 112- Control Room, Solar Grid System, lifts, digitized storage of seized materials, online application feeding are some of the key aspects that provide distinguished status to Lakadganj Police Station. Lakadganj Police Station operates with 141 staff members and 11 officials.
Lakadganj Police Station comprises the area between Prajawati Nagar and Gandhi Putla Chowk (E-W) and Maskasat Railway crossing to Gangabai Ghat (N-S) with a dense population of 2.5 lakh under its jurisdiction. Besides, Itwari Railway Station, two flyovers, 12 hospitals, housing project for cops and resident of MLA Krusha Khopde; Lakadganj Police jurisdiction includes sensitive points like Vidarbha's largest red light area — Ganga-Jamuna and Satranjipura.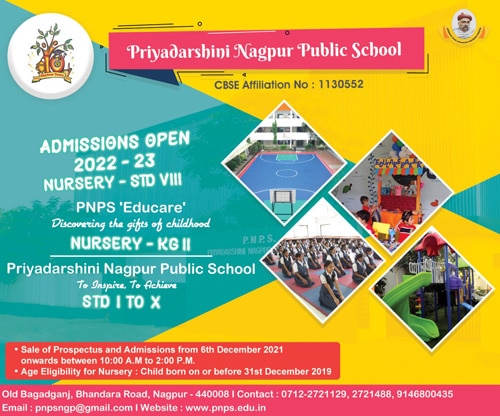 Lakadganj Police Station comprises four beats: Wardhaman Nagar Beat (Beat Marshal – HC Arun Khobragade – Mobile No: 7744016898), Lakadapool Beat (Beat Marshal – HC Sunil Pathrabhe – Mobile No:8830420495), Ganga-Jamuna Beat (Beat Marshal – PC Mahendra Kshirsagar – Mobile No: 9922963038) and Anaj Nagar Beat (Beat Marshal – ASI Gopalkrishna Kulmethe – Mobile No: 9011996618). PSI Sunil Raut (Mobile No: 9881907464) leads DB Squad of Lakadganj Police.
Speaking to Nagpur Today, PI Parag Pote discussed how Lakadganj cops have undertaken several preventive measures to curb irregularities in the area. PI Pote has amplified preventive actions against notorious criminals in the area following the directives of Commissioner of Police (CP), Amitesh Kumar, Deputy Commissioner of Police (DCP) Zone 3, Lohit Matani and Assistant Commissioner of Police (ACP), Sachin Khorbole.
In bid to bridge the gap between cops and the society, PI Parag Pote has already shared his personal mobile number – 9370631327 — with the locals and has advised them to directly call him in case of any emergency or if anyone wants to share any secret information. Their anonymity has always been protected, he assures. Anyone can also reach out to Lakadganj Police on their landline number: 0712-2726318, he added.
Significance of Local Interactions:
"Apart from Shantata Meetings, Mohalla Meetings, and Senior Citizen Meetings to hear their grievances, Lakadganj cops make sure to interact with citizens, local corporators, social workers and business owners to acknowledge their queries. Lakadganj Police participate in several seminars and awareness campaigns organized by school, colleges in the area to interact with students. This helps us to spread awareness among the youngsters," said PI Parag Pote.
Preventive actions to curb irregularities in the area:
"Owing to flourishing irregularities in the area, Lakdganj Police have launched organized crackdown against hardcore criminal, illegal liquor and gambling businesses in the area under the supervision of CP Amitesh Kumar and DCP, Lohit Matani. Lakadganj cops initiated 197 preventive actions this year alone (133+ compared to last year). Apart from this, constant raids at Ganga Jamuna area have helped Lakadganj Police to register a significant drop in anti-social activities in the area," PI Pote said.
Regular checks on repeated offenders:
To curb the irregularities under Lakadganj Police Jurisdiction, the cops have prepaid the chart of notorious criminals in the locality, who are on constant watch. Besides, cops on the regular basis keep checks on repeated offenders in a bid to control nuisance and at the same time to instill fear among them. Lakadganj cops have also externed two goons and slapped three MPDA recently, to ensure safety of the locals, informed PI Parag Pote. He has also warned anti-social elements of stern action if their acts by any means disrupt the harmony of the society.
"Be our eyes and ears", PI Parag Pote urges residents:
Members of the public can be a great source of information when it comes to reporting crime in their area and thus I would like to urge Lakadganj residents to be our eyes and ears as when it comes to combating crime, we cops rely heavily on the community's assistance, asserted PI Pote. He has also advised local vendors to install CCTV surveillance at the shops, as cameras are the major deterrent to crime, PI Parag Pote said.
In a bid to inform citizens about their regional Police Station, Nagpur Today came up with an exclusive series — Know Your Police Station – to enable all the necessary information regarding the Police Station to the general public. In the report, you will find information about the Police Inspector of the respective Police Stations, ways to contact them in case of any emergency, besides the official's future goals in the region, etc.
– Shubham Nagdeve and Ravikant Kamble