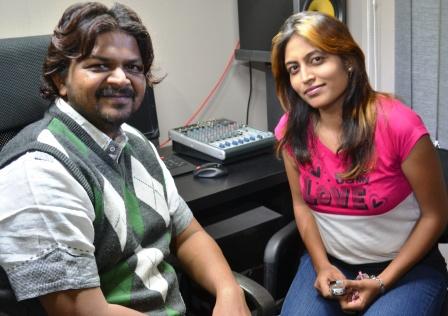 Nagpur Today Youth Icon: A radio jockey (or RJ)  hosts a radio talk show where the RJ selects the music to be played, or topic of discussion by interacting with the audience; the interaction is often via telephone or Radio Controlling System but may also be online. Radio jockeys may start working for fixed salaries, but their pay increases in proportion to their experience. Many go on to become voice-over artists, speaking in commercials and animated shows.
One of them is RJ Milind, City's only Superstar who is very handsome, friendly and a nice hearted person .Known as King of Hearts.
Suhani: Tell us something about yourself, your background and your studies
Milind: I graduated in Arts, after I was unable to do much in Engineering. When I got my first Back, I changed to Arts and followed the path of music.
Suhani: Tell us something about your journey as an RJ (Radio Jockey)
Milind: Private Radio came to Nagpur in 2006. Radio Mirchi was the first to advertise for auditions. I didn't even understand the concept of Radio back then; I had simply created a bit of a name for myself by having compared on stage at city events. This reputation helped me. I gave the interview, which was more casual and chilled- out than I had thought a job interview could be, and wrote a script and spoke for the sound auditions. Five months later, I was selected.
Suhani: What are the most memorable moments you had as an RJ?
Milind: There are many. Radio is a medium that has to be very heartfelt. If your work doesn't come from the heart, you can't be a good RJ. I remember once, a colleague of mine had brought some children who would beg at the railway station to our office. I spoke with one of them, and learnt that his own parents had abandoned him at the railway station to beg. They would come once a month to take some money from him. This interaction moved me.
Suhani: An incident of On air which is in your heart till today?
Milind: On another occasion, I learnt on the news that a city builder's son, who had been kidnapped, was found again. The story had been covered by the media intensely. I wanted my listeners to hear the child's voice and know for themselves that he was home. I cancelled my programme for the days show and asked everyone I could for the parents' contact. One of my friends was the child's neighbour, he helped me speak to the family, and they asked him to say, "Milind Kaka" to me over the phone. He did, and laughed. I edited the sound clip and played it that day, and we kept getting phone calls from people in the city all day long. It was an experience.
Suhani: As an RJ, people expect you to be cheerful every time you're on air. How do you manage this?
Milind: See, my listeners- be they 5 lakhs or 10 listen to me because they want to cheer up and feel good. They don't know whether I've had had a fight or other problems in my personal life. It's my job to keep their mood uplifted. I think everyone who works in the media field, not just RJs, need to be smiling and maintain a particular attitude at work. You have no choice. It's not a desk job where you can vent your anger on random people you interact with.
Suhani: How does being an RJ affect your personal life?
Milind: It affects my personal life a lot. My son is nine years old now. Ever since I joined the radio, I rarely remember dropping him to the bus stop in the morning or seeing him wake up in the morning. Radio is a full time job, and it's very hectic.
Suhani: What do you do, apart from being an RJ?
Milind: When I came into Radio, I realised that this medium will definitely grow in the coming years. Radio stations, maybe small ones, will come up in other towns, and are yet to spread all over Vidarbha. It will be a source of employment, which is why some friends and I thought of setting up an RJ academy. Even if all the students don't end up on radio, they will, at least, be able to speak up on stage. This in itself will open horizons for them.
Suhani: How has the experience been till date?
Milind: When I was with Radio Mirchi, I was given the 9:00 pm show called Purani Jeans. I was happy with it, because I thought a show that late would be relaxed and not too demanding. I had no idea about prime- time slots in those years.
I worked hard at it, however, since it was my first show. People seemed to like it and we started building a recall value quite soon. Soon, they gave me the morning show.
But, the rest of the crowd at Radio Mirchi was much younger than (RJ) Pritam or I, and had a different lifestyle. I had never seen girls smoke before. I didn't feel like I fit in. Later, My FM came in. It was a new channel and not as big a brand as Mirchi. It had a different mindset and flavor as all radio channels do. I liked it.
People warned me not to risk shifting from a big channel to a smaller one, but I took the jump. It's very easy to become big when you're with a big organisation. It's not that simple with a small one.
Suhani: What do you like most about Nagpur?
Milind: Well, this city has a flavour of its own. People say that Nagpur is slightly laid back and lazy, but even that has a different feel to it. When the people of Nagpur shed their laziness and get to work, people like Rajkumar Hirani are the result of it.
Suhani: Any message to Nagpurians.
Milind: I would just say that Nagpur is such a good place where peoples came from other cities and based here permanently and for the one who are basically nagpurians, Feel lucky that you are the origin of this city. Stay blessed . Be happy and RJ Milind ko sunte raho on 94.3 MYFM, Jiyo Dil se!!!
Taken By Suhani Vanjani