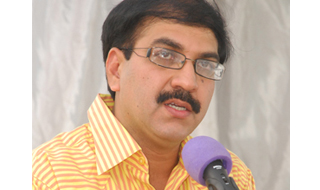 Nagpur Today spoke with Dr. Vinky Rughwani, President of the Thalassemia Society of India, Nagpur Chapter, about the problems faced by Thalassemia affected children and possible solutions. Following are excerpts from the interview.
Meghna: What exactly is Thalessemia and how widespread is it in this region?
Vinky Rughwani: Thalassemia is a problem with the haemoglobin, and it's a hereditary disease. I3% of the world's population is Thalessemia minor. A Thalassemia Major child is born when both parents are Thalassemia minor. It is a major, dangerous disease. The patient needs blood transfusion throughout their life. The only permanent cure is Bone Marrow Transplant, which is very difficult and expensive.
Meghna: What problems does a child have to deal with if he/ she is a Thalassemia Major?
Vinky Rughwani: The child gets a yellowish tinge to their skin from the age of six months. Their blood count is low; hence their activities are less than that of regular children. Parents take their child to the doctor once the child seems markedly inactive and lethargic, only then is the child diagnosed with Thalassemia. They need constant blood, because their body doesn't manufacture much blood on its own. There are many side- effects to this, such as deposition of Iron in the body. Their body organs gradually start to deteriorate. Such children don't live very long. In the earlier days, before medicines came in for this and blood transfusion was difficult, the common age of living for them was four to five years. Now, with iron chelation (iron binding) and other new techniques, their longevity has increased. It is now common for patients to live upto the age of fifteen or twenty. One thalassemia patient in Nagpur is even happily married.
Meghna: How expensive and difficult is basic medical care for families with children who are Thalassemia Major?
Vinky Rughwani: At present, they need blood transfusion and a few drugs. The main drug is the iron chelator, which costs between Rs. 1500 to Rs. 3000 per month, depending on the child's age. Blood transfusion and other transfusion facilities need around Rs. 500 to Rs. 1000 per month. In all, families have to pay around Rs. 5000 per month, in uncomplicated cases. If there are complications, such as iron deposit or damage to the liver, kidney or heart, expenses increase.
The chances of finding a match for bone marrow transplant are higher among siblings. Even among siblings, the chances of success are 33%, which means that you have a 66% chance of not finding a match. Even after the match, the procedure is difficult and requires the child to be hospitalised for two months. Very few hospitals in India, such as the Tata Memorial in Mumbai and a centre in Vellore, provide this procedure. Moreover, it costs around Rs. 10lakhs in uncomplicated cases, and much more in complicated ones. The success rate for this procedure has touched 85% in recent times.
Meghna: How does the Thalassemia Society of India help?
Vinky Rughwani: Originally, our main stress was on the prevention of Thalassemia. Now, we focus not only on prevention, but also on the welfare of Thalassemia Major children. We register such children, and with governmental help, provide them with free blood through blood banks. We have been doing this for the past five years. Moreover, we have begun a new project with the help of Maitri Parivar Sanstha, through which we give them expensive medicines at very cheap rates. The medicines are almost free of cost for BPL (Below Poverty Line) card holders, through this programme. We have started with the city of Nagpur. Hence, we will be helping around a hundred children in our first phase. There are about 450 affected children in Vidarbha, and we plan to reach out to all of them soon. Let's see how this programme goes.
Meghna: What can our readers, as young citizens of India, do to help?
Vinky Rughwani: This is a preventable disease. You can imagine the economic, social and emotional problems that a Thalassemia patient goes through. Everybody in the community should think of it, and every unmarried boy and girl, and newly married, childless couple should test themselves for Thalassemia Minor. In such cases, there is a 25% chance of the child being born Thalassemia Major, 50% chance of the child being Thalassemia Minor, and 25% chance of the child being normal. It is advised that the parents take a prenatal test within the first few weeks of pregnancy, and undergo a legal abortion if required.
Blood donation is always required, as blood donation camps are often short of blood. These children always need help. Bone Marrow donation is not yet an option, since advanced procedures as stem cell banking, which is needed for unmatched donors, have not yet come in a big way in India. There is always a need for more blood donors.
The government is also beginning a project for flee blood provision to affected children. This was done after constant letters and requests regarding the issue from the Nagpur chapter of Thalassemia Society of India. However, the pilot project will be launched only in Satara, Nashik, Thane and Amravati districts of Maharashtra. I expect that the programme will reach Nagpur in two or three years.