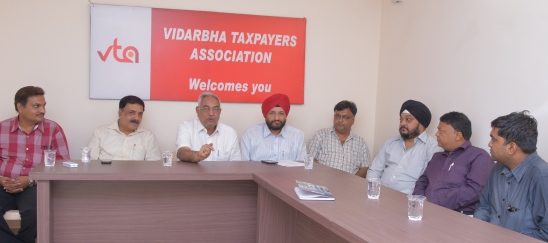 Nagpur News:
Vidarbha Taxpayers Association (VTA) called an urgent meeting presided by President VTA J. P. Sharma to discuss recent proposal by State Government to withdraw 'No Shopping Frontage Roads' regulation from Development Control Regulations 2000 for Nagpur by replacing these roads as 'No Parking Roads'.
VTA also sent memorandum to Prithviraj Chavan – Chief Minister, Rajendra Mulak – Minister of State for Finance and Planning, Manukumar Shrivastav -Principal Secretary Urban Development Department (UDD), Shyam Vardhane – Municipal Commissioner NMC and Praveen Darade – Chairman NIT mentioning in detail various consequences on proposed state govt move.
Sharma apprised the members that VTA filed Public Interest Litigation No. 63/2013 on no shopping frontage was argued by VTA counsel Advocate Harnish Gadhia on 17.07.2013, weherein Hon'ble Justice B. P. Dharmadhikari and Hon'ble Justice A. S. Chandurkar issued notice to Respondents (1) The Principal Secretary, Urban Development Department, Govt of Maharashtra, Mumbai (2) Nagpur Municipal Corporation through its Municipal Commissioner and (3) Nagpur Improvement Trust through its Chairman returnable on21 August 2013.
Tejinder Singh Renu, secretary of VTA said that NMC in May 2008 had passed resolution to delete No Shopping clause and has accordingly sent letter to UDD, seeking deletion, however instead of scraping, govt has proposed to replace the same by 'No Parking Roads', which as usual shall only be applicable to Nagpur and rest cities of the Maharashtra being more privileged shall continue with no provision of no shopping or no parking roads as well. This is nothing less than another step-motherly treatment to the city of Nagpur by State Government.
VTA submitted that correct & legal procedure to delete Regulation no. 13.6.2 of Development Control Regulation 2000 for Nagpur would be to grant sanction to NMC's proposal of deletion, pending with UDD since 2008, as the same was passed after carrying due procedure as laid under section 37 of the MR & TP Act, 1966.
VTA also raised query as to why such provision of 'No Shopping Frontage Roads' or 'No Parking Roads' is only in Nagpur, why only Nagpur is targeted with such provisions and other cities of Maharashtra are exempted? Even cities like Mumbai, Pune, Aurangabad, Nashik, Nanded and others have Ring Roads and main roads facing acute congestion; why they do not have similar sanctions.
VTA also brought to the knowledge of the State Govt through memorandum that the moment State Government names these 24 roads as 'No Parking Roads' by Gazette publication, automatically all other roads in Nagpur would get parking sanctioned on road. Likewise existing buildings owners and their guests would face extreme problem in parking their vehicles, since these roads being wide enough commuters park their vehicles on road sides. Moreover since this GR would be prospective, new building shall have more parking then required, but how would authorities distinguish which building is constructed after this GR coming into force. VTA also feared that by naming these roads as 'No Parking', traffic police would swing into action and this may lead to increase in corruption.
Renu said, average size of Plots including those developed by NIT in Nagpur are of 6000 sqft; if all requirements of the UDD are to be followed, like providing double parking for commercial space, which means basement parking would be a must thereby requiring 6 meters for ramps, 6 meters side margins required by Fire Department, hence totaling 18 meters, thus scope of building construction fails and this then encourages developers to seek illegal means of construction to obtain feasibility.
VTA also raised question as to why Development Plan published under MR & TP Act, 1966 for Nagpur does not have provisions for public parking ? And why should stakeholders be punished for administration failing in providing basic parking facility in the city while planning Ring Roads, as well as failing to provide good public transportation system ?
VTA appealed to the state govt without prejudice to the rights claimed and contentions raised in PIL 63/2013 to take into consideration various issues raised and in the interest of citizens and accepting Nagpur as part of Maharashtra, grant sanction to proposal as sent by NMC for deletion of Clause 13.6.2 from DCR without bring any replacement in its place.
Present in the meeting were Joint Secretary Hemant Trivedi, Exceutive Body members, Rajesh Kanoongo, Amarjeet Singh Chawla, Govind Patel, Rohit Kanoongo and Rahul Agrawal.