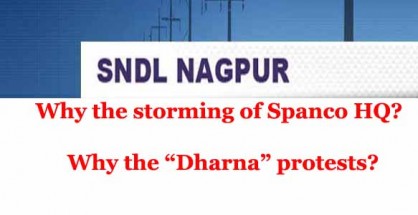 Nagpur News:
"Ba Vitthala, put the Maharashtra on progressive path, let there be prosperity, peace and a happy life for the people of Maharashtra, give all the powers to us to fight the adversaries facing the Maharashtra," was the prayer Lord Vitthal by Maharashtra Chief Minister Prithviraj Chavan on the auspicious occasion of "Aashadi Ekadashi.
The Chief Minister and his wife Satvashila Chavan religiously performed "Puja" Lord Vitthal-Rukhmini on behalf of Government. "Last year, there was a drought-like situation in the State. This year, there is good rainfall in the entire state except at few places. It is omen," Chavan Said.
However, there is "horrible drought" in Nagpur. Of course, not of water. The "Akal" (Drought) of firebrand leaders who could have drowned the Spanco in the flooded rivers of Nagpur. The DAY-5 went as usual with Sunrise and Sunset. There was no turmoil or uproar or mayhem or free-for-all.  Nothing. Nothing.  And Nothing. The Nagpur leaders, who waged a war against cancellation of agreement with the diabolical Spanco, have been maintaining a radio silence since the FIRST DAY of Monsoon Session of Maharashtra Assembly. The Spanco has turned the lives of Nagpur citizens hellish.
The question the Nagpur citizens are pondering is: "What has happened to those leaders who doled out promises after promises to citizens that they would be freed from "killing clutches" of Spanco? Truly speaking the Nagpur leaders have "hurt" the citizens than the Spanco. The Spanco was born and brought up torture the citizens. And company is doing the same without any fear. But the Nagpur leaders have unleashed a more damage to innocent citizens by "injuring" them and playing with their feeling by dirty politics. Moreover, by maintaining radio silence they are rubbing the salt to their injuries.
At least seek the help if divine and powerful hands of Lord Vitthal and pray to HIM to save them from Spanco.
Let us see what happens on Monday. The Monday could turn a "man day" for this "Tritiya Panthi" gang of Nagpur  leaders.