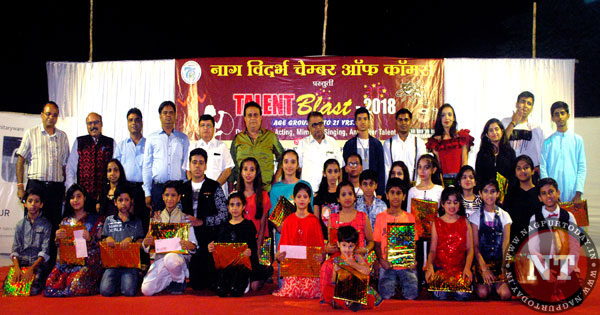 Nagpur: The Cultural and Amusement Committee of Nag-Vidarbha Chamber of Commerce (NVCC) organised "Talent Blast 2018" event for children of its members as part of 'Amrut Mahotsav' celebration. The children showcased their talents in dance, singing, acting and other forms of art with aplomb.
In the event, Vinayak Ahuja, Mannan Agrawal, Pratik Gupta, Chirag Kukreja, Kabir Khiyani, Himanshu Dhanwani, Stuti Khandelwal, Anjel and Vishakha Khiyani, Dipti Thawrani, Prachi Dhanwani, Gayatri Gupta, Naina Parvani, Anjali Badheja, Anshita Chhabra, Drushti and Tisha Ahuja, Himani Jeswani, Nancy Khiyani, Bhumi Kashyap, Deepa Dhanwani, displayed their talents in recording dance. Ram Dhanvani, Ashika Tahiliyani, Riya Thawrani, Pranjal Loya presenting singing talent. Nishkarsh Pahuja, Aditya Pahuja, Devesh Khandelwal, Sukruti Agrawal, Suyash Kabra showcased their talent on musical instruments such as keyboard, guitar, and tabla. Pawan Chelani staged mono acting while Indra Gupta drew sketch of Prime Minister Narendra Modi.
All the participating children were presented with awards. The "Talent Blast 2018" event was in continuation of a musical programme "Geeto Bhari Sham" organised by NVCC on August 23, 2018.
The NVCC President Hemant Gandhi appreciated the kids for their talent and also praised Cultural and Amusement Committee for successful organisation of the event. The NVCC presented Anshita Chhabra, Nancy Khiyani and Pawan Chelani the first, second and third prize respectively. All the children were also awarded consolation prizes.
The NVCC Vice President and Convener of Cultural Committee Arjundas Ahuja made introductory remarks while the programme was conducted by Santosh Kabra. Secretary Sanjay Agrawal proposed a vote of thanks. Joint Convener Maheshkumar Kukreja, members Gajanand Gupta, Mohan Choithani, Shankar Sugandh and others worked hard for success of the programme.
Present at event include NVCC Vice President Farookhbhai Akbani, Treasurer Sachin Puniyani, Joint Secretary Ramavatar Totla, Swapnil Ahirkar, Umesh Patel, PRO Shabbar Shakir, special invitees Rajubhai Makhija, and all office-bearers, members, children and parents in large numbers.