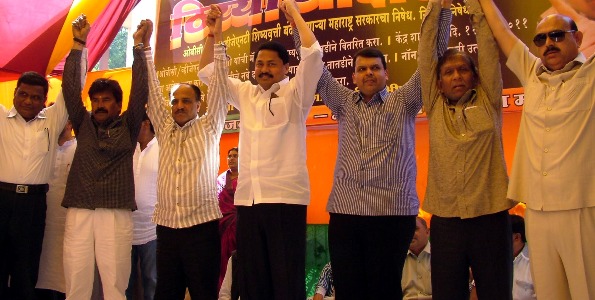 Nagpur News: The Bharatiya Janata Party (BJP) Nagpur Mahanagar President Krishna Khopde has announced the office-bearers of new Executive Committee. Khopde had earlier announced the five General Secretaries, and Treasure.
The General Secretaries are Rajesh Bagdi (Organisation), Sandeep Joshi, Pramod Pendke, Prabhakar Yevale and Sudhakar Kohale. The Treasurer is Chetana Tank.
The Presidents of various cells have not been changed. Today's announcement of office-bearers include 45 Vice-Presidents, 28 Secretaries, 45 Permanent Invitees, 1 Chief of Publicity, 1 Joint Chief of Publicity, and more than 50 Special Invitees and members of the Executive Committee.
VICE-PRESIDENTS: Meghraj Maimani, Rajesh Sakore, Ramesh Shingare, Dayashankar Tiwari, Sandeep Gavai, Rupatai Roy, Asifbhai Kaliwala, Narsibhai Patel, Ramesh Chopde, Satish Holey, Krishna Kawale, Abdul Qadir, Babli Meshram and others.
SECRETARIES: Raju Khare, Nana Padole, Nitin Araspure, Nandu Ahir, Raju Gadge, Nitin Ronge, Mohan Meshram, Abdul Qayum Khan and others.
OFFICE SECRETARY: Sudhir Hirde
CHIEF OF PUBLICITY: Chandan Goswami
JOINT CHIEF OF PUBLICITY: Gajendra Pande
PERMANENT INVITEES: Nitin Gadkari, Banwarilal Purohit, MLA Devendra Fadnavis, MP Ajay Sancheti, Udaybhaskar Nair, MLAs Sudhakar Deshmukh, Vikas Kumbhare, Nanaji Shyamkule, MLC Nago Ganar, Girish Vyas, Mayor Anil Sole, Deputy Mayor Jaitunnabi Ashpak Patel, Avinash Thakre, Pravin Datke, Sanjay Bhende, Shripad Risaldar, Balbir Singh Renu, Yoganand Kale, Dr Kalpana Pande, Sumitra Lule, Mayatai Iwnate, Archana Dehankar, Pushpatai Ghode, Bahrinbai Sonboyeerm, Rajesh Tambe, Dr Yashwant Bajirao, Deorav Umredkar, Bhola Badhel, Arvind Shahapurkar, Dr Upendra Kothekar and others.
SPECIAL INVITEES: Vijay Kewalramani, Ambadas Wankhede, Lala Qureshi, Digember Dhande, Tarabai Nakhate, Sheela Mundle, Shiva Dhatrak and others.
EXECUTIVE MEMBERS: Ushakiran Sharma, Rajesh Shahu, Ashok Birvani, Gopal Lanjewar, Sanjay Bansod and others.