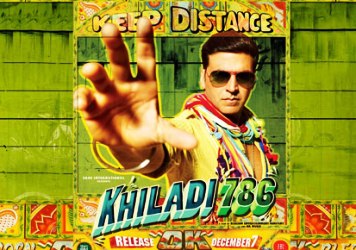 Directed by         Ashish R Mohan
Produced by       Twinkle Khanna
Himesh Reshammiya
Sunil Lulla
Story by                 Himesh Reshammiya
Starring                  Akshay Kumar
Asin Thottumkal
Rahul Singh
Mithun Chakraborty
Manoj Joshi
Raj Babbar
Himesh Reshammiya
Music by                Himesh Reshammiya
Studio                      HR Musik
Hari Om Entertainment Co.
Distributed by   Eros International
Release date         December 7, 2012
Nagpur Today Review : 8 Dec,2012 .Our wait is over for Mr.Khiladi .Akshay Kumar is finally back with a bang with his bone-breaking khiladi avatar. Khiladi 786 falls under the action masala genre, which has gone down really well with our mass fan-following for years now. But unfortunately, this madcap entertainer might not leave you laugh your socks off. Khiladi 786 is touted as the eighth film in the 'Khiladi' series.
The first was way back in 1992: Abbas-Mustan's Khiladi, which is commonly accepted as being Akshay Kumar's breakthrough film.The films in this so-called series have never been connected to each other, in terms of story or characters or even feel; all they share is the word 'khiladi' in their titles – and the heroic presence of Akshay Kumar. But even when one zeroes in on him, it is hard to see any similarity between the puffy-haired, endearingly inexperienced college student of that first Khiladi and the strutting, special-effects-driven machismo of this one.
Perhaps the similarities are to be found elsewhere. Certainly, it feels like we have travelled little distance between the Khiladi of 1992, who sang 'Khud ko kya samajhti hai' at a ribbon-wearing Ayesha Jhulka tore off newspapers from walls to literally 'reveal' gigantic caricatures of girls in bikinis), and the "Khiladi Bhaiya" of 786, who is picked as potential groom for the 'hot-headed' don-ki-behen Indu Tendulkar (Asin) precisely because she needs a 'real man'.
The maker of the match is Hangdog Himesh Reshamiyya himself, playing the (ill-fated) son of a Gujarati marriage arranger whose father has thrown him out of the house. The prospective groom Akshay Kumar, with the magisterially ridiculous name of Bahattar Singh – doesn't seem to care much about who the girl is. His rather minimal requirement is that he be matched up with an Indian girl, because his family of Punjabi rural henchmen has only been able to acquire foreign women in the past. But the Indian Indu is in love with a chap by the name of Azad – the purpose of whose (ill-fated) name is to keep him oh-so-ironically in jail through much of the film (and who we anyway know to be ill-fated because surely Asin is not going to actually marry anyone except Akshay).
We must of course disregard the fact that our hero is a man whose life consists of posing as a cop, capturing trucks full of smuggled goods and beating up people for a living. After, all the heroine's father is a mafia don, too – and neither of them have the slightest self-doubt about their dubious life-choices, except lamenting the fact that they can't get shareef girls to marry into their households.
When we're not reeling from looking at Akshay Kumar's electric blue kurtas we must deal with watching him romance an Asin fully-clad in Marathi-style saris or flowing scarlet gowns, as bikini-wearing white girls pirouette around the pair. That's in his fantasies, of course – in real life, our poor hero only gets to dirty dance with a lean, mean white woman in a 1970s-Hindi-movie style disco, while Asin gets to be the object of the taming of the shrew narrative I mentioned earlier.
What else can I tell you about Khiladi 786 that you might not have already imagined? That a brother-sister pair called Mili and Bhagat are meant to provide comic relief by being plump and disabled respectively? That Mithun Chakraborty is so bored by his massively over-done, massively moustachioed character that he's already reprising his previous role in an Akshay Kumar movie Housefull 2? That this is the sort of film where even the characters have to be reminded of what happened to them three days ago by being shown a sepia-toned flashback?
Khiladi 786 begins by announcing that the world has two categories of people: earners and spenders. That offensive, sexist beginning doesn't keep the film from paying its cynical lip service to 'love marriage'and it's not going to keep a whole country from spending our hard-earned money on it either. We only get the movies we deserve.
Overall, the film caters to the masala loving audience. Akshay himself admitted recently that Khiladi 786 is a masala film. Watch it for the comical sketches of its characters, Rohit Shetty style of stunts, Himesh's groovy music, and most importantly for its genuine intention to entertain! Must watch.
Our Ratings :

Cinemax:
Eternity Mall :
10.10, 11.10, 1:0o , 2:00 3:50, 4:50, 6:40 , 7:40, 9:30 , 10 :30
Poonam Mall, Wardhaman Nagar :INOX:
11:40am‎ – ‎12:10‎ – ‎2:20‎ – ‎4:30‎ – ‎5:00‎ – ‎7:45‎ – ‎9:45‎ – ‎10:30pm
Jaswant Tuli Mall, Kamptee Road :
9.00 10.00 11.30 -12.45 2.20 3.30 5.00 6.15 7.45 – 9.00 10.30
Suhani Vanjani