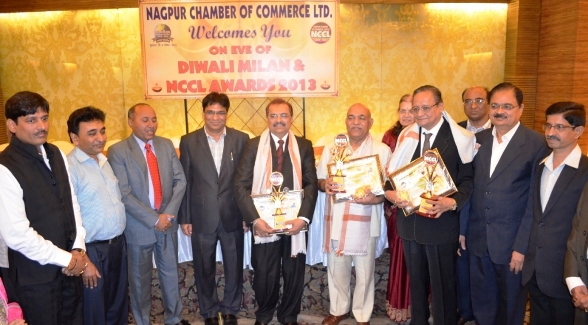 Nagpur Today.
Nagpur Chamber of Commerce Limited (NCCL) selects dignitaries from the city in the field of industry, trade and service sectors who excelled in their respective fields every year since 14 years and honours them.
Those who have established their name in any particular field of excellence inspire the new generation to excel in whatever they are doing. This year the Chamber has selected CMD of  Confidence Group from Industry field Nitin Khara, Promoter of Vedoms from Trade field Vedprakash Jaiswal and Chairman of Goyal Ganga Group from service sector Jaiprakash Goel.
These personalities were honored at the Diwali get-together and NCCL Awards function held on November 6, 2013 at Hotel Centre Point.
Before the award ceremony, President of NCCL C A Kailas Jogani spoke of the history, the day to day functioning of the NCCL. He stressed on one important issue which is every year the Central Government asks for the suggestions of NCCL and many a time, the pre-budget suggestions are incorporated too. NCCL President said that the State Government too should take the suggestions of NCCL and should also incorporate the suggestions.
NCCL had constituted a committee for the programme headed by co-coordinators Mahesh Kumar Agrawal and Vijay Jaiswal. The other members of the committee are Ashish Jejani, Nathabai Patel, Sameer Gupta, Manmish Ojha and Ravindra Padgilwar, President of NCCL CA Kailash Jogani, Secretary of NCCL Pradeep Jajoo, Mahesh Kumar Agrawal and Vijay Jaiswal the office-bearers of Trade and Industries Associations attended the programme.
Dignitaries present on the occasion were MLA Krishna Khopde, MLA Vikas Khumbhare, Standing Committee Chairman of NMC Avinash Thake, Special Superintendent Rajendra Singh and other prominent personalities of the city.