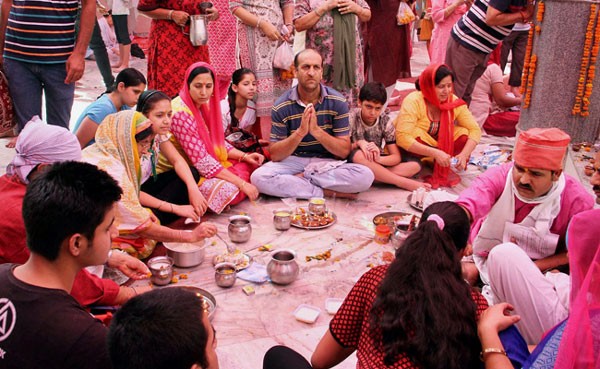 Hindu pilgrims attended the annual festival of Mata Kheer Bhawani in Ganderbal, Jammu & Kashmir, today. Thousands of Kashmiri Pandit devotees, who were displaced and were forced to leave the Valley due to militancy, have started arriving at the Kheer Bhawani temple.
The Jammu and Kashmir government had announced free transport for the devotees from Delhi and Jammu to the temple and back to attract more Kashmiri Pandits to the mela to be celebrated from today.
The then Chief Minister Mehbooba Mufti had also joined the celebrations at the shrine on June 3, offering kheer to the shrine of the goddess. She said she prayed that the day comes soon when Kashmiri Pandits can return to their homes with dignity, with children.
The Jammu and Kashmir Police had put up signboards en route to the temple to welcome the Kashmiri Pandits. The name 'Kheer Bhawani' is derived from the fact that thousands of devotees offer kheer (rice pudding) to the sacred spring. The kheer is believed to turn black to warn of impending disaster.
The number of Pandits at the festival this year is much lower than the last few years in the wake of the increased militancy in the Valley.
The festival is seen as a hallmark of Hindu-Muslim amity with many Muslims setting up stalls at the shrine to sell flowers and other offerings for the pooja.
Every year on June 20, Kheer Bhawani melas are organised at five shrines across Kashmir. These are Ragnya Bagwati shrine at Tulmul in Ganderbal, Ragyna Bagwati shrine at Manzgam in Kulgam, Tripursundri shrine at Devsar in Kulgam, Ragnya Bagwati shrine at Logripora in Anantnag and Ragnya Bagwati temple complex at Tikkar in Kupawara.