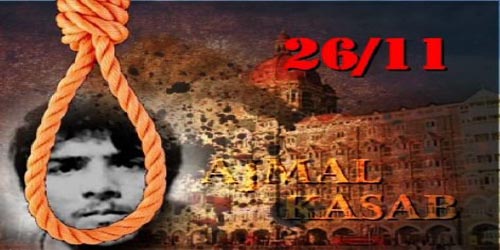 Nagpur News : The Muslim community across Nagpur is relieved as the dreaded LeT terrorist and 26/11 attacks accused Mohammed Ajmal Amir Kasab was finally hanged to death early Wednesday morning in Yerwada jail of Pune. The operation was carried out secretly however it appealed cheerful reactions from the city people par religions. The prominent figures representing Islamic community in the city took time out to speak to Nagpur Today and expressed their views over the most awaited moment of the nation.
Amir-E-Shariat (Islamic spokesperson) Mufti Mohammed Abdul Qadir Khan, also the director ofNagpur's oldest Islamic institution Jamia Arabia, expressed his words of happiness over Kasab's execution saying that the terrorist should have been hanged in public so as to set an example that zero tolerance would be observed against those trying to vanish the country's integrity. He said that even in Islam, killing innocent people is termed as sinful act and it is not forgiven at any cost. He said on behalf of his community members that though the execution came too late but Muslims in the city are quite relieved about the capital punishment meted out to such an enemy of humanity.
Quari Khaleeque Ahmed, Imam of Jama Masjid at Mominpura said that anyone who commits crime against humanity does not belong to any religion, and the sentencing of Kasab should be pronounced in a better way by bringing all the other culprits to justice. Like Kasab, those involved in bomb blasts atAjmer andMalegaon should also be given similar punishment. He said, "India is a secular nation and law should be equal to all. Unlike other Islamic countries where rule of eye for an eye persists, the procedure in Indian law involves detailing and pertains to prolonged trial before the capital punishment is finally pronounced. Now it's high time other culprits like Kasab should be treated with equal punishment. There is an urgent need to vanish the enemies of humanity the same way."
Historian and literateur Dr. Mohammed Sharfuddin Sahil was strictly of the view that no person, irrespective of his caste or religion, should be spared if he puts the country's security at stake. "Those conspiring against the nation's peace and integrity should be delved with the similar consequences, no matter to which religion he belongs." he said, adding that Kasab was destined to be hanged and the Indian government has followed proper legal procedure before sending him to the noose. "We are delighted to hear this news", he quipped.