Karthik's Century, Another Victory For India Cements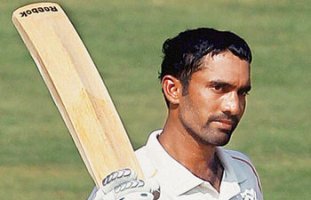 NAGPUR News:
Dinesh Karthik's terrific century (not out) helped India Cements to achieve a 35 run victory over Bharat Sanchar Nigam Limited (BSNL) second time consecutively in Group-D of Rajsingh Dungarpur Corporate Trophy Cricket Tournament.
India Cements chose to bat first and made an incredible score of 322 runs whilst losing 3 wickets in the limited 50 overs in this match which was played at Vidarbha Cricket Stadium situated in Civil Lines. Dinesh Karthik's tremendous batting helped him make a whooping 176 runs, not out, including 6 sixes and 19 fours in just 131 balls whereas S. Badrinath made 75 runs in 121 balls with the help of 1 six and 4 fours.
Vijay Shankar was not out at 23 runs. Negi took 4 wickets while Shantanu Pitre took 1 wicket. In defence, BSNL team made 287 runs with the loss of 8 wickets in 50 overs. Sanjay Bamal was the highest run scorer for this team by scoring 86 runs. Right before Yo Mahesh took his wicket (caught by Dinesh Karthik), he had scored 2 sixes and 9 fours. Kamlesh Makwana was not-out till the end and made 58 runs with the help of 8 fours in 58 balls. Opening batsmen Varun Kumar made 45 runs with the help of 7 fours and a six. Giving 59 runs, Yo Mahesh took 3 wickets whereas P. Amarnath took 2 wickets. Vignesh, Shabaad Jakati and R. Ashwin took 1 wicket each