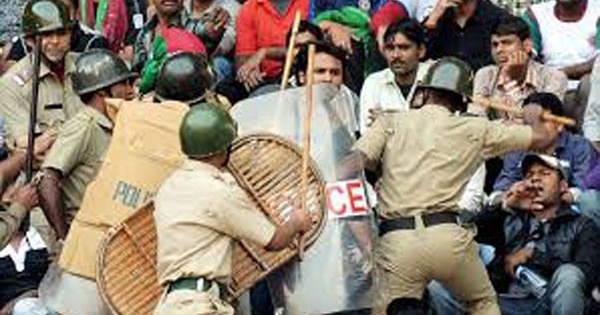 Nagpur: Kamptee police resorted to lathi-charge after a mob of 100-150 people went on rampage and ransacked CCTV camera and other properties at Police Station to protest arrest of some bikers who were indulging in stunt. The mob also damaged two-wheelers parked at the Police Station.
Cops have arrested the accused Vivek Mangtani, Kamptee BJP President in this connection and booked hundreds of rioters including Anup Tomar, Khushal Nanvani, Sidharth Paigwar, Vedant Paigwar, Pankaj Nalanwar, Sandeep Kanaujiya, Abhishek Talewar, Rishi Khetan, Subhash Mamtani, and many others under Sections 143, 145, 147, 149, 153, 353, 201, 427, 294 of the IPC read with Section 3 of Maharashtra Police Act.
According to police, some youths were indulging in stunt on their bikes around 8 pm on Wednesday opposite the house of Kamptee BJP President Vivek Mangtani. Subsequently, Mangtani lodged a complaint with police. Some youths were detained but let free by cops after a warning. However, enraged by the police complaint, the youths reached Mangtani's house and thrashed him. Fuming over the incident, Mangtani mobilised 100-150 party activists and gheraoed Old Kamptee Police Station and raised slogans for action against the hooligans.
In the meantime, some BJP activists entered Police Station and started creating ruckus. Sensing trouble, additional police force was called. The activists damaged CCTV camera, two-wheelers parked at Police Station and indulged in arson. This forced the cops to resort to lathi-charge. Mangtani and some other activists reportedly suffered injuries in the lathi-charge. The atmosphere on Thursday was calm but tense.