Nagpur: As the Sur and Taal of the instruments and various dance forms combine together it is a worth watching. The three day extravaganza Kalidas Sanskrutik Mahotsav 2018 which pays a tribute to Kavi Kalidas is underway at Suresh Bhat Hall, the first day marked some of the memorable performances by Tabla maestro Anuradha Pal, Hindustani classical vocalist Arti Ankalikar Tikekar and city based classical dancer Shrimathi Madkholkar.
The second day marked performances of Bharatanatyam dance by Padmashree Devyani along with Kaushiki Chakravarti's 'Kaushiki Ani Sakhi' on Wednesday evening.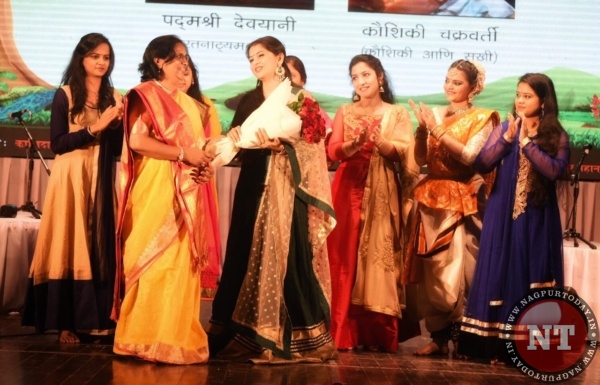 The evening started with Ganesh aaradhna with a Bharatanatyam dance presentation by french origin Padmashree Devyani, the steady postures made the performance a worth watching.
Arupa Lahiri presented a dance performance on Shakuntala and Dushyant for which she received a standing ovation by the audience
The conclusion of the bharatanatyam by Padmashree Devyani was in prayer form sanskrit to Natraj.
The soothing classical music along with classical dance pleased the audience.
Followed by singing performance by Kaushiki Chakravarti's 'Kaushiki Ani Sakhi' through her music kaushiki represented the story of all the women and their struggles through their life. Kaushiki and team which consists of all the women to play different instruments made the night a memorable one.
By- Abhishek Tiwari
Pics By- Rajesh Bansod