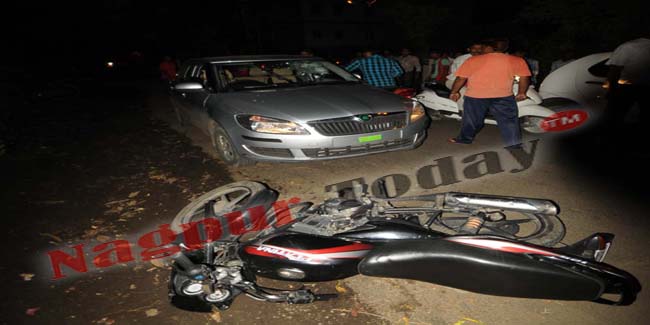 Nagpur News : There was chaos near Shankar Nagar after a speeding four-wheeler hit a youth on bike, dragged him to hundred feet away and fled the spot. Interestingly, enraged over the reckless driving while eye-witnesses damaged the vehicle, within few minutes, the accused driver's family reached the spot with weapons and started hitting the people for damaging the car.
The incident took place around 11 pm at Shankar Nagar square. Eye-witnesses informed that a youth was heading to Bajaj Nagar square while the four-wheeler driver (Skoda) was going to Shankar Nagar when they collided with each other.
Witnesses informed that the youth on four-wheeler was driving at break-neck speed. Despite of the accident, the four-wheeler kept driving to distance to escape from the spot. It was learnt that after the mishap, the youth and his bike were stuck below the car's wheels. The car driver dragged the biker to hundreds feet away to a jewellery store on the road.
The youth on bike was thrown out when the accused driver took a right turn in the lane to escape. The biker escaped with injuries. As there was some technical fault in the car, the driver left the vehicle and fled the spot. The witnesses, who followed the car driver, found the vehicle and pelted stones and damaged the whole car with sticks and rods.
Within ten minutes, the driver's family having around 12 to 15 members reached the spot with weapons and sticks and started hitting people who damaged the car. Ambazari police reached the spot and were trying to control the situation.