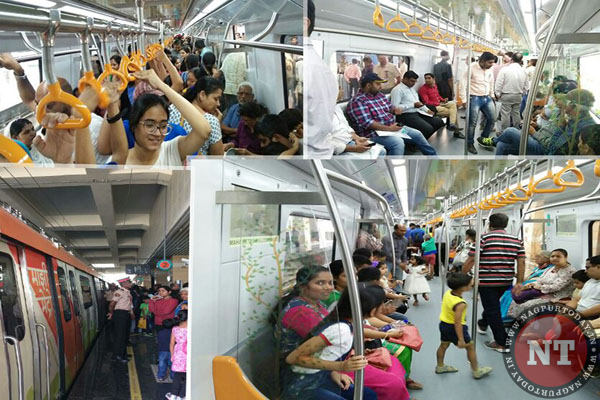 Nagpur: The Joy Ride concept initiated by Maha Metro Nagpur has proved to be a big hit with citizens as close to 2,500 Nagpurians have availed of this facility till now. While the sheer number speak for success of the Joy Ride concept, the fact that Metro has organised 10 rides in a month's span throws light on the tremendous response to the same by Nagpurians.
The Ride is being organised on a stretch of about 5 km between Airport South and Khapri Metro Stations. Soon after Maha Metro Nagpur got Commissioner of Metro Rail Safety (CMRS) nod for starting operations on this stretch, rides have been regularly organised for various sections of the society. The first ride in this series involved film stars and inmates of orphanage, old-age homes, specially-able children.
The first ride turned out to be a big hit and then there was no looking back, as Maha Metro organised a series of rides, including those for Media Houses. All rides organised since then attracted good numbers and Metro office is since flooded with requests for Joy Ride. Passengers availing of this ride, thoroughly enjoyed every moment of this ride, with some clicking selfie during the journey and some at the stations.
Apart from the train journey, Nagpurians also had good time at the Metro stations, which showcase ancient Indian history and modern architecture. The blend of these two is too tempting for the citizens, who just can't stop themselves from shooting these features and preserve the same posterity. The enthusiasm displayed by seniors and juniors during the journey has been tremendous.
The passengers have been very vocal about their appreciation for Joy Ride and the various features that the Metro stations offer. The queries of all the passengers are addressed to their satisfaction by the Team Metro. Maha Metro has launched this service in the second capital and it invites residents of Orange city to come forward, participate in Joy Ride and get this unique experience.