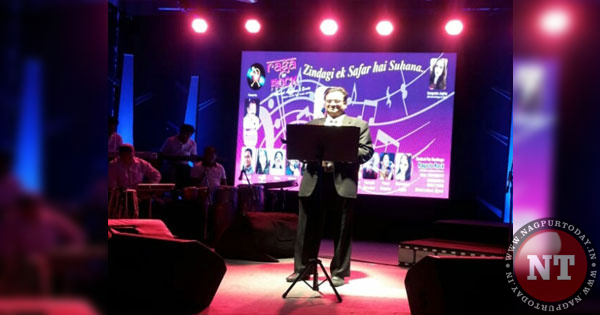 Nagpur: The entertainment-starved citizens of Nagpur metropolis were enthralled by heart touching music when Dr.Sanjay Uttarwar performed in jam-packed Scientific Society Hall . The event was "Jindgi Ek Safar Hai Suhana" organised by Raga to Rock Musical Academy of Mr.Sanjeev Jagtap. Concept was of Mr. Nitin Zade and Mrs. Sangeeta Jagtap . Musical and sound support was from Mr. Pawan Manwatkar and Prashant Nagmote.
Dr.Sanjay Uttarwar, Principal of an engineering college yet a musical prodigy, received loud applause from the responsive audience when he displayed his impressive vocals and singing talent as he rendered the soulful composition "O! Hasina Zulfo Wali Jane- Jahan"of an incorrigibly master piece movie of retro "Teesri Manzil" and " Tum agar sath Deneka Wada karo " from block buster film of 1967 "Humraj" of Indian Film Industry.
Soulful composition of Lata Mangeshkar, Asha Bhosle, Mohd. Rafi, Kishorkumar was presented by Sanjeev jagtap, Vinod Dongare, Rupali Dasrao, Uma Raghuraman, Ashok bagul, Sama Soav, Sulabha Mandekar, Palaj Arya, Purva salpekar
and mrunmai jagtap.
Speaking to a local journalist Dr.Uttarwar said that the distance from the performer and the audience was so close, allowing you to speculate every single emotion being produce throughout the concert. The melodies were at time very emotional with a sudden burst of excitement. The bright lights, screaming crowds and pulsating beats, according to him were a perfect way to end this year. He expresses his thanks to Mr. Sanjeev Jagtap the Organizer of the event for having faith on his passion of singing.
Overall, in the opinion of audiences, this concert really gives them a subjective impression in their mind. It had a remarkable expression made one understand the nature spirit in music