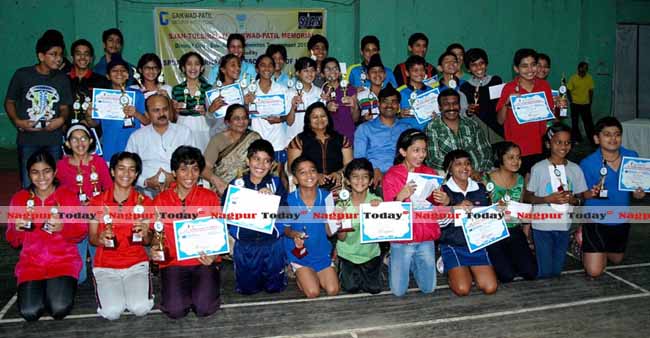 Nagpur News: TOP seeds Mugdha Agray, Pallavi Pitale justified their top billings as they clinched the Under-15 girls' doubles titles and top seeds Deepthi Ramesh and Sourabh Kerhalkar toppled in the Under-15 girls' and boys' singles respectively in Tulsiramji Gaikwad Patil memorial district ranking badminton tournament which concluded at Subhedar Hall on November 7, 2013.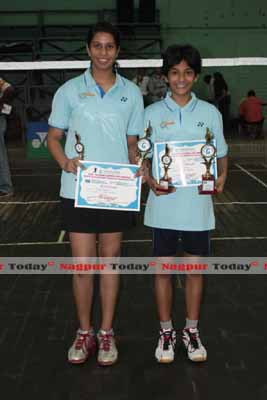 Mugdha Agray and Pallavi Pitale of Nagpur who undergo the training from JSS club shared their experience with Nagpur Today about the training schedule and management of their studies. They said that 'Our training schedule is set in such a way that we don't have to lose on our studies and we study accordingly and our Coach Jibi Vargese is always there to guide us and takes a good reign'.
Besides Deepthi Ramesh from U-15 girls singles, had to sweat it out hard to beat Malvika Bansod 21-11, 16-21, 21-16 to clinch the title, wherein Sourabh Kerhalkar from U-15 boys singles, made it look each in defeating Ameya Baheti 21-16, 21-8 for the crown.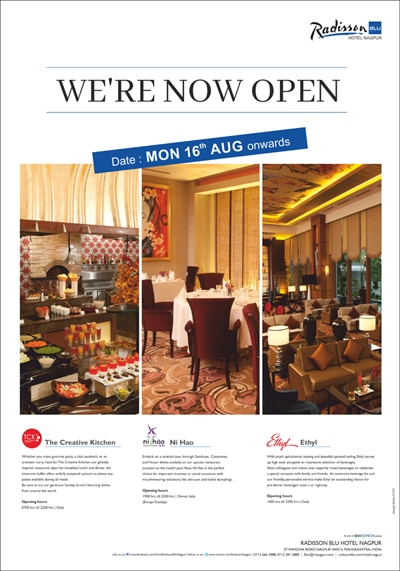 In the Under-13 age category, Rohan Gurbani edged out Sudhanshu Bhure 21-18, 19-21, 21-10 to claim the title. Top seed in Under-13 girls category Malvika Bansod quelled the challenge from second seed Gargi Joshi as she ousted her 21-16, 21-11 in the final.
Chairman of Gaikwad-Patil Group Mohan Gaikwad was the chief guest of prize distribution function.  NDBA president Kundatai Vijaykar presided over the function.  Principal Anjali Gaikwad, HR head of SNDL Sanjeev Bariyal, NDBA secretary Mangesh Kashikar also graced the occasion.
Veteran badminton player Dwij Mukherjee was felicitated at the hands of guests on the occasion. Cash prizes, trophies and certificates were given to winners, runners-up and semi-finalists. SJAN secretary Kishor Bagde and President Dr Ram Thakur conducted the proceedings.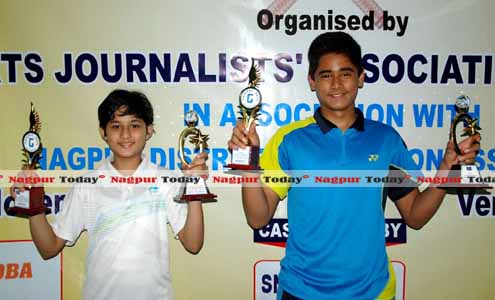 Results
All finals
U-13 girls singles: Malvika Bansod (s-1) beat Gargi Joshi (S-2) 21-16, 21-11.
U-10 boys singles: Siddhant Bawankar (S-2) beat Yugandhar Deo (S-1) 21-14, 16-21, 21-12.
U-10 girls singles: Nikita Joseph (S-1) beat Aditi Sadhankar (S-2) 21-14, 21-10.
U-13 girls doubles: Arya Anchalwar-Gargi Joshi beat Livia Fernandez-Pavitra Somani 21-14, 21-13.
U-13 boys doubles: Jaskaran Suri-Sriniwas Saoji beat Om Ghode- Parth Thakkar 21-12, 21-11.
U-13 boys singles: Rohan Gurbani beat Sudhanshu Bhure 21-18, 19-21, 21-10.
U-15 girls singles: Deepthi Ramesh beat Malvika Bansod 21-11, 16-21, 21-16
U-15 boys singles: Sourabh Kerhalkar beat Ameya Baheti 21-16, 21-8
U-15 girls doubles:Mugdha Agray-Pallavi Pitale beat Gargi Joshi-Arya Anchalwar 21-9, 21-10.
U-15 boys doubles: Sourabh Kerhalkar- Sarvesh Kukde beat Ameya Baheti- Sawarjeet Pande 21-16, 24-22.