In order to bring awareness towards tiger conservation among the enthusiastic lot of Nagpur and to express gratitude towards the brands supporting the noble cause, Signpost India throws up an evening full of melodies and lilting tunes, graced by the cherishing presence of B-town's soulful singer Javed Ali.
As the fans roared to greet their favourite singer in the country's Tiger Capital on the occasion of International Tiger Day, Ali too reciprocated with equal zeal.
Signpost India had put together over 100 brands to bring about the cause of protecting wildcat. Signpost India has also offered these brands over 100 media locations to endorse the cause through their brands.
Even as Javed Ali belted out one after another number from his soulful music library, the hall was filled up with positive vibes and fragrance of fresh flowers decorated over the tables.
Ali started his performance with the song ' Kehne ko jashne bahara hai' the singer continue to rain other popular songs like ' Guzarish' ,'Tu jo mila'(Bajrangi Bhaijan), Zalima and so on.
Then it was time when Ali enlightened the entire atmosphere with his Sufi skills. He engrossed the audience who were touched upon through the Sufi songs like 'Arziya' 'Kun Faya Kun' and many more.
Sharing his experiences while recording these songs Javed Ali told Nagpur Today, "While recording 'Kun faya Kun' from movie Rockstar I performed 'Wazoo' in recording room, which created the tranquilized spiritual atmosphere in the room, which is strongly reflected in the song even today."
Later he moved to the retro song 'Ankho ki gustakhiya' 'Aaja meri Tamanna' 'Pyar de Pyar de' and many other songs, which struck the emotional chord of the audience giving them some nostalgic moments of 90s era. Ali humbly adhered to the demands of the listeners too.
Not the least, Ali made sure the evening also has some adreline rush going through the audience and came out with brilliant performance on fast paced Bollywood numbers 'Nagada Nagada Baja' . 'Kajrarey' which let the audience swinging to the tunes. He ended the on a melodious note singing 'Khwaja mere Khwaja' after which audience accorded the soulful singer a warm standing ovation with loud cheer.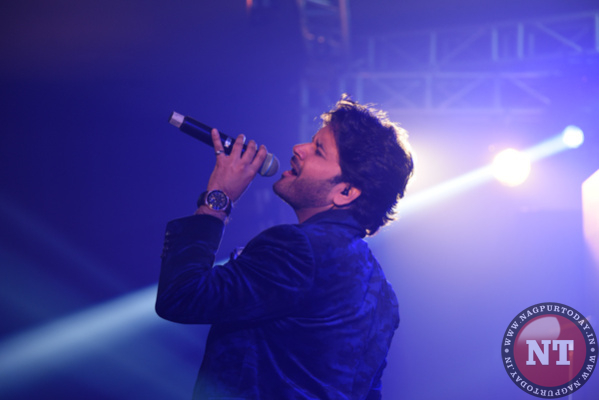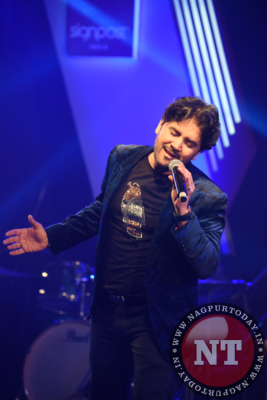 –
Farhan Kazi
Pics by Rajesh Bansod