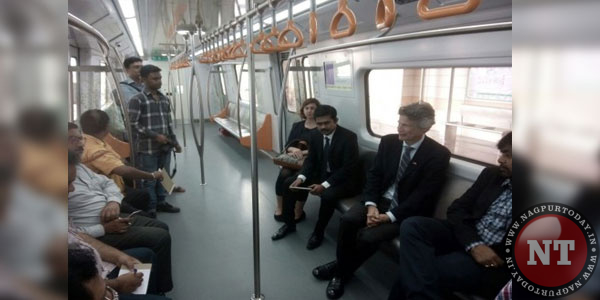 NAGPUR: A team of KFW, the finance company from Germany, arrived in Nagpur on Monday to inspect the ongoing metro rail project in the city. The six-member team had a metro ride between Airport South and Khapri stations and expressed satisfaction over the work done so far.
It may be mentioned here that the KFW will be financing Rs 4,500 crores to Nagpur's metro project at different phases of its development. The work on Nagpur Metro started 34 months back and is likely to be completed soon. The company has so far released 15% to 20% of the amount. A team from KFW pays surprise visits to inspect the quality and progress of the ongoing work. Such teams had visited Nagpur earlier also.
The work of metro project is going on across the Nagpur city. In the first phase, the project is being constructed from Sitabuldi to Hingna, Khapri, Pardi and Automotive Square. The first phase of work will cost around Rs 8,600 crores. KFW has released funds for completion of the first phase of work. The team has expressed satisfaction over the work done so far and assured to provide loan for remaining work.
The Central government has signed a memorandum with the KFW for the construction of Nagpur Metro, which is the first metro rail project in the country to have been funded through ODA procedure.