The cast and crew of Ajab Gazabb Love were in the city today to promote the movie. The cast of the movie is as follows:
Jackky Bhagnani as Rajveer Grewal
Nidhi Subbaiah as Maddy
Arjun Rampal as Karan Singh Chauhan (cameo appearance)
Arshad Warsi as Arjun Sharma (cameo appearance)
Darshan Jariwala as Yashvardhan Grewal
Kirron Kher as Rajveer's mother
Nidhi and Jacky danced to a number from the movie. Pulses raced high watching their performance. During the press conference, Sanjay Gadhvi, director of the movie Ajab Gazzab Love and blockbusters like Dhoom, Dhoom 2 and Kidnap said that every director  attempts to make a different movie each time. And that this movie will be totally different. He said that this movie is for people's entertainment. Dhoom was an action movie and this is comedy; both fall under the entertainment genre. The story revolves around business scion Rajveer (Jacky Bhagnani) who falls in love with Maddy (Nidhi Subbaiah) who doesn't like rich folk.
Nidhi is a film actress and model, who has appeared in various television advertisements and in South Indian films, primarily in Kannada. She brings a fresh feel to the movie. Vashu Bhagnani, producer of the film said that Ajab Gazzab Love is a family package. There is no vulgarity and no double meaning. Its a total family entertainer. Audio Cds of Ajab Gazzab Love were also distributed during the event. The atmosphere was fun filled with Jacky and Vashu sharing light moments. Jacky said that after Shahrukh's 6 pack abs, he would very soon display an 8 pack. Vashu then said he has a family pack and doesn't know what to do with it.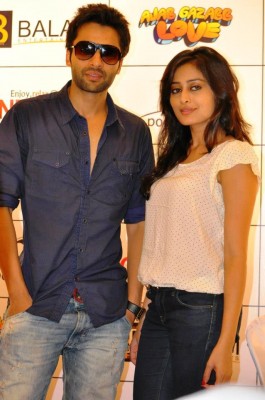 Photos by Hemant Channe